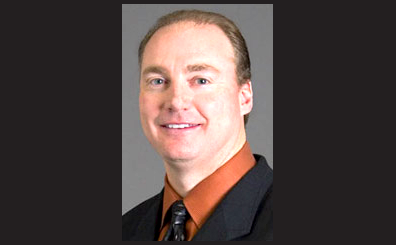 BY EMILY MIBACH
Daily Post Staff Writer
After 2½ years of investigation, the San Mateo County District Attorney's Office has hit former community college district chancellor Ron Galatolo with 21 felony charges, accusing him of taking lavish gifts from contractors who were working for the district.
Among the gifts were tickets to concerts and sporting events — such as Warriors games — as well as international travel, according to District Attorney Steve Wagstaffe.
Court documents allege Galatolo, 58, of Menlo Park, benefitted after giving contracts to Palo Alto architectural firm Allana, Buick and Bers, or AB&B, and McCarthy Building Companies, which has an office in Santa Clara.
McCarthy got contracts for the new Math and Science Building, or Building 23 at Canada College. The construction of that $64 million project was funded by bond measure money. The district's board approved a contract for $40 million with McCarthy on Jan 11, 2017.
The district had a series of contracts with AB&B that total over $7 million, according to court documents. One of those projects was to build a solar energy system at Canada College.
AB&B's attorney, Stephen Pahl, sent the Post a statement saying that the district's contracts with AB&B saved the district money.
"While one of the principals of AB&B has a friendship with Mr. Galatolo, in all of the many discussions the principals have had with the San Mateo County District Attorneys' Office, there has never been even the hint of impropriety even suggested by the District Attorney, nor that the district contracted with this civil engineering firm and failed to receive excellent value for the investment and consultation," Pahl said in an email to the Post.
The Post also reached out to McCarthy Builders, but did not hear back.

Contractors won't be charged
Wagstaffe said he has no plans to charge the contractors, pointing out that private businesses have different ethical obligations than public employees.
"Mr. Galatolo, as a government employee, has a different set of standards to adhere to," Wagstaffe said.
Chuck Smith, Galatolo's attorney, told the Post yesterday that he plans to challenge all of the charges Galatolo faces.
Galatolo, who was the district's chancellor for 18 years, is not expected to be formally arrested until next Friday. However, if Galatolo gets pulled over for a speeding ticket or something like that, it will show that he has a warrant out for his arrest, according to Wagstaffe.
Wagstaffe said the hearing date was set for next week because Galatolo is out of town.
Wagstaffe said his office is still looking at "additional matters" which may result in more charges for Galatolo down the line, but said his office has no intent at this point to charge anyone else.
No one has been granted immunity for their testimony at trial. However, some college district employees wanted immunity before providing statements to the DA's office, the DA said. But Wagstaffe said none of those people were actually criminally culpable.
"Our investigation has not shown any criminal activity on the board or elsewhere within the district," Wagstaffe said.
The DA in December charged former vice chancellor of facilities, Jose Nunez, with 15 similar charges. Nunez took a plea deal on Jan. 5, cutting his number of felonies from 15 to two. In exchange, Nunez will testify against Galatolo.
Nunez will not be sentenced until the other cases are completed, Wagstaffe explained. If Nunez holds up his end of the bargain, he will get probation. The maximum penalty for those charges is three years and eight months in jail, Wagstaffe said.
Tax charge
Galatolo is also charged with lying to the DMV and on tax forms.
Galatolo is accused of saying on his 2017 tax form that he made a $10,000 charitable donation to the Santa Rosa Junior College Foundation Fire Relief Fund to help people after the Tubbs Fire. However, the DA's office discovered the district's nonprofit foundation made the donation.
The DA's office also discovered that Galatolo on Sept. 24, 2015 told the DMV that he had bought a 1963 Corvette for $2,500. Online postings estimate that a 1963 Corvette would cost between $63,000 and over $100,000.
Similarly, on May 29, 2019, Galatolo allegedly told the DMV that he bought a 2006 Chevy SSR for $1,000. Chevy 2006 SSRs are listed on Carfax for around $35,000.
College District Communications Director Ana Maria Pulido said in a statement to the Post that the district "severed its relationship" with Galatolo in February 2021 and has cooperated with the DA's investigation and will continue to do so.
The district's elected board fired Galatolo from his cushy $467,700-per-year job as chancellor emeritus that he started in August 2019, two weeks before the Post broke the news that he was under investigation by the DA's office.
When the board fired Galatolo once and for all, the board cited the fact that Galatolo had not properly disclosed his dealings with construction companies or the gifts he received from them.
Questions arisen in the past about Galatolo activities.
In 2015, Galatolo came under fire after NBC Bay Area revealed he was buying alcohol with district money, a policy violation.
Purchases included a $100 bottle of Rubicon Cask at a San Diego hotel. He said the wine was to entertain donors to the college.
A key figure in the prosecution's case is former college district HR chief Eugene Whitlock.
In 2019, Galatolo arranged for the district to pay Whitlock $2.28 million if he would resign. Galatolo's reasons for wanting Whitlock out aren't publicly known.
But days before Whitlock agreed to resign, he sat down with investigators in the district attorney's office. DA Wagstaffe confirmed to the Post that the investigation began with information provided by Whitlock.
Whitlock ran for the college district's board in 2020, but withdrew from the race when the Post revealed he had been paid $2.28 million to resign, a fact that had previously been concealed from the public.
Reaction story that appeared on Saturday, April 9
Headline: College watchdog: 'It's about time'
BY EMILY MIBACH
Daily Post Staff Writer
A long-time watchdog of the San Mateo County Community College District said "it's about time" that criminal charges be filed against former chancellor Ron Galatolo.
But former San Mateo Planning Commissioner Maxine Terner said it's unfortunate that the 21 felony charges filed against Galatolo, 59, of Menlo Park, don't directly involve fraud related to the district's bond measures.
The district passed three bond measures that raised a total of nearly $1 billion. Many of the companies that got contracts for the new buildings were donors to those bond measure campaigns. The most recent was Measure H in 2014, aimed to benefit Canada Col- lege in Redwood City.
It was with some of that money that Galatolo allegedly fixed contracts for two developers in particular, Allana, Buick and Bers and McCarthy Builders. AB&B was given a series of contracts totaling over $7 million for various projects, primarily to set up so- lar panels for Canada College. McCarthy was given a contract to build the new Math and Science Building, or Building 23, at Canada.
In 2014, Terner spoke out against Measure H, labeling the campaign behind the bond measure a waste. She pointed out at the time that instead of up- grading libraries, classrooms and labs, as promised in the other two bond measures, the money was put toward lavish new buildings, roads, parking lots and athletic facilities.
The San Mateo County District Attorney's Office filed charges against Galatolo, who was chancellor for 18 years before suddenly resigning in August 2019, He was then given a position as "chancellor emeritus" where he got the same pay, but the board ended that contract in February 2021. Galatolo will be in court on Friday, where he will be arraigned on 21 felonies including perjury, lying on his taxes, to the DMV and not properly disclosing gifts he got from vendors over the years. He faces a maximum of 20 years in prison.
"Galatolo lied to and manipulated the previous board of directors and they did not do their jobs to protect the legitimate faculty and student facility needs, the voters and taxpayers. The influence of the building trades & consultants on school bonds cannot be underestimated and voters must beware," Terner said as a warning to other elected officials.
"My public trust has been severely shaken by what Galatolo was allowed to get away with," she said.