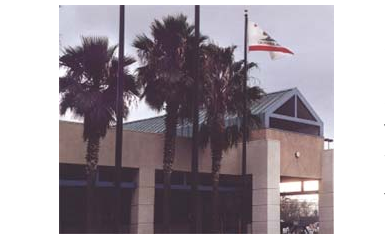 The Santa Clara Sheriff's Office, which has had a number of its jail inmates die or suffer serious injuries in the past few years, has announced that a 45-year-old inmate has died in the county's Elmwood Correctional Facility in Milpitas.
The sheriff's office said in a statement that there appears to be no foul play "at this time."
The inmate's name hasn't been released pending notification of his family.
On Sunday, jail deputies were alerted by the inmate's cellmate who had pressed the emergency button inside of the cell, the sheriff's office said. Deputies responded and attempted CPR and other life-saving measures, they said, and he was taken to a nearby hospital at 9:24 p.m.
At 9:52 p.m., the man was pronounced deceased by medical staff, the sheriff's office said.
The man was originally booked into the county jail by the Milpitas Police Department on Saturday. He was booked on suspicion of possession of a stolen vehicle, residential burglary, and petty theft with priors, the sheriff's office said.
The district attorney's office, the Santa Clara County Medical Examiner-Coroner's Office, and the sheriff's office are conducting a joint investigation into the cause of death.
The sheriff's office said in its statement at no further information will be released pending notification of the inmate's family and there is more information on the investigation.
The sheriff's office, led by embattled Sheriff Laurie Smith, has been under fire for the deaths and injuries of inmates. Those cases have led to investigations by state and federal officials.
In a 2018 incident, inmate Andrew Hogan experienced psychiatric distress while he was being transferred between facilities and battered his head against the inside of the van, suffering a major brain injury. The county settled a civil suit brought by Hogan's family for $10 million.
Three officers beat inmate Michael Tyree to death in August 2015, resulting in a $3.5 million settlement and three murder convictions.
Martin Nunez, who was in psychiatric distress, ran head first into the metal door of his cell and injured his spine in August 2019. His complaint filed in January said he was left in his cell for an extended period of time, and officers moved him roughly, exacerbating his spinal injuries despite his screams. He still requires "substantial ongoing care" for his injuries, and his claim against the county is unresolved. — Staff and wire reports