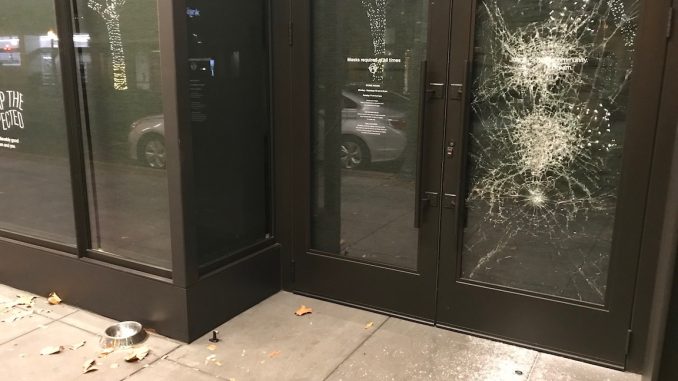 By the Daily Post staff
Between 30 and 40 people tried to break into the high-end consignment store TheRealReal at 379 University Ave. in downtown Palo Alto last night, just before midnight.
A security guard was in his car nearby when he saw the mob descend upon the store. He immediately called 911. The would-be robbers tried to break into the store by slamming some sort of solid object against the windows. A window shattered but didn't give way.
When police arrived at 11:20 p.m., the mob ran to their cars and sped out of town.
Palo Alto and Menlo Park police stopped two cars in Menlo Park and made two arrests, Palo Alto police Lt. Brian Philip said.
Earlier Sunday evening, the robbers hit TheRealReal store in Marin County in Larkspur, and then the caravan drove to Palo Alto.
Inside the car Palo Alto police stopped were items from the Marin County store with their price tags still on.
The store sells women's clothing, shoes and expensive handbags on behalf of people who want to sell those items.
On June 21, a crew of seven robbers took $50,000 in handbags from the store. That prompted management to hire security guards who have been highly visible to passers-by.
There have been a number of similar incidents in the Bay Area in the past few days.
Early Thursday morning, three thieves broke into the De Novo Fine Contemporary Jewelry at 250 University Ave. in downtown Palo Alto and stole more than $50,000 worth of silver and gold jewelry from the display cases, police said.
Cameras captured two people wearing dark clothes, hooded sweatshirts and Covid masks breaking into three display cases and grabbing items for just over a minute, while a third person waited in a getaway car. No arrests have been made in the Palo Alto robbery.
On Friday night, well-organized thieves rammed vehicles into storefronts to break glass doors and windows at Louis Vuitton, Fendi, Yves Saint Laurent, Burberry, and Dolce & Gabbana in San Francisco's Union Square shopping district on Friday, according to police. Several people were arrested.
On Saturday, about 80 people, some wearing ski masks and wielding crowbars, ransacked the Nordstrom at the Broadway Plaza outdoor mall in Walnut Creek. Two employees were assaulted and one was hit with pepper spray during what police called "clearly a planned event."
Correction: An earlier version said Menlo Park police stopped a car fleeing from the scene. Actually, Menlo Park and Palo Alto police stopped a car and made two arrests.