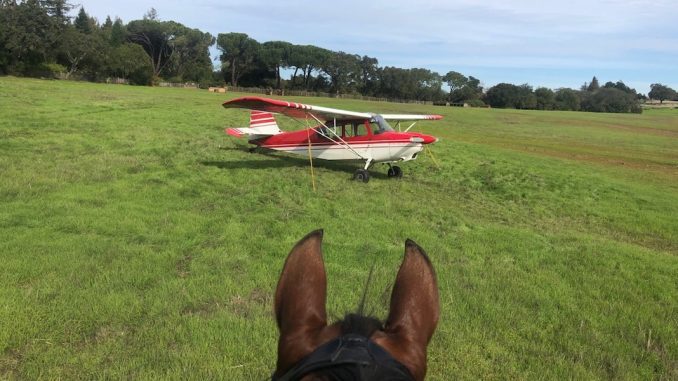 BY EMILY MIBACH
Daily Post Staff Writer
The horses at the Horse Park in Woodside will have an unexpected visitor for a few days.
A small Citabria plane made an emergency landing shortly after noon Sunday in an open field at 3674 Sand Hill Road, according to Horse Park Executive Director Steve Roon.
Roon was alerted to the landing by the Woodside Fire Protection District. Luckily, any horses who were in the way of the airplane were able to get out to the way because the field is so large.
The pilot told fire officials that he had to land due to a malfunctioning fuel line, which he discovered soon after takeoff from the Palo Alto Airport, about 7 miles away.
Roon said it's his understanding that the pilot did not feel comfortable flying over neighborhoods to get back to the Palo Alto Airport, so he made an emergency landing in the field.
"It sounds like the pilot made the safe decision," Roon said.
Roon, who has been running the horse farm for about two years, says he's heard of other emergency plane landings that have occurred at the 270-acre property that's leased from Stanford.
The plane is expected to be in the field for a few more days, Roon said. The wings of the plane will have to be removed and the body put on a flatbed truck and taken away, Roon said.
The plane is staying put right now because of the rain that began tonight and is expected over the next day or so. The plane will be moved once the field dries up.
Roon added he'd rather have the plane stay on the field for a few days instead of the pilot trying to take off and things not going as well as the landing did.