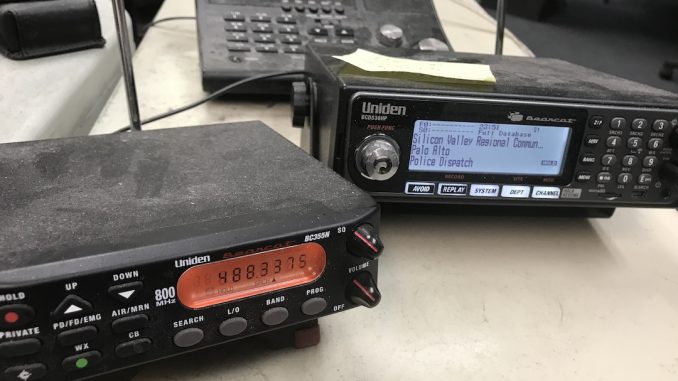 OPINION
BY DAVE PRICE
Daily Post Editor
When Palo Alto Police Chief Bob Jonsen encrypted his department's police radios in January, he said he was following a state Department of Justice mandate to protect people's personal information transmitted over the airwaves.
Mountain View and Los Altos quickly followed his lead.
But now it turns out that the CHP doesn't plan to follow the "mandate" that Palo Alto was so quick to obey.
Here's why this issue is important. For 70 years, people have been able to use police scanners listen into their local police and firefighters as a way of knowing what's going on in their community. It's a check-and-balance on law enforcement.
Less news, more secrecy
For news organizations, it allows reporters and photographers to get to the scene of an accident, fire, explosion, shooting or other newsworthy event quickly, so they can see for themselves what happened and bring the story to you.
With encryption, police agencies tell reporters what happened long after the event has ended.
For instance, on a stormy night in February, trees were crashing down, power lines were falling and there was flooding in different parts of Palo Alto.The typical procedure in this newsroom is to send a reporter out on the road with a police scanner and a camera to document what happened. In the next morning's paper, the reader gets a report on the damage the storm did in town, such as the trees that smashed through houses or cars, the flooding and the fires.
This year we weren't able to do that story because our scanners were silent. The only thing this mandate did was reduce the amount of local news you got.
Some people have argued that criminals listen into the scanners to get the personal information of people contacted by police. Others argue that criminals will use the police radio to avoid detection.
No examples
To test those theories, we submitted requests with Palo Alto, Los Altos and Mountain View for all such cases. None of the cities had anything. It simply doesn't happen.
Still, the CHP was not oblivious to such concerns when it decided to skip the encryption mandate. The CHP went to a new policy last October regarding how personal information is transmitted. The policy calls for leaving pieces of personal information out of the transmissions, making it useless to criminals.
How the CHP's policy works
For example, when an officer wants dispatchers to check someone's driver's license number for information such as whether the license is suspended, the officer will give the license number over the radio and the dispatcher will read it back to make sure they've heard it correctly.
When the dispatcher responds to the officer with the results of the driver's license check, they can give either the person's first name or last name, the driver's license number and the status of the license. That prevents transmission of someone's full name and their driver's license number at the same time.
Additional information such as address, date of birth, and physical descriptors would only be provided when requested.
The CHP also declined to encrypt because it is sticking with analog radios, which do a good job of covering long distances. Palo Alto and the rest of Santa Clara County bought a digital system from Motorola that works fine in cities but not over long distances.
It doesn't appear as if the Department of Justice is going to punish the CHP for its response to this mandate.
This CHP policy was in effect when Palo Alto encrypted its radios in January. Unfortunately, Palo Alto switched to encryption without the benefit of a public hearing. Had there been such a hearing, the new CHP policy would have been brought up and discussed, and council could have told police to follow it instead of going to encryption.
The purpose of a public hearing is to bring out information that could improve a proposed policy. But when a chief acts unilaterally, he deprives himself of the advice and counsel of other thoughtful people in the community. If criminals aren't taking advantage of police radios, then how does the public benefit from encrypting police radios?
Editor Dave Price's column appears on Mondays. His email address is price@padailypost.com.