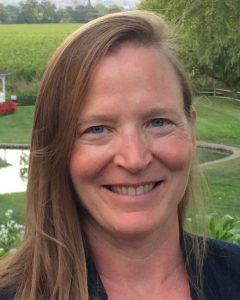 Lora Riggs Wadsworth, 58, passed peacefully in her home in Atherton, CA on October 9, 2021, surrounded by her loving family. A talented businessperson, leader, community servant, mother and wife, Lora had a successful business career followed by leadership roles in numerous community and charitable organizations, but her greatest achievement was creating a wonderful and loving family.
Lora was born in Alva, OK to Sam and Lois (Rauh) Riggs. After the family moved to Lakewood, CO, Lora attended Alameda High School where she was President of the Jefferson County Student Council, Colorado representative to the US Senate Youth Program, chairperson of the Jefferson County School Accountability Committee, and a National Merit Semi-finalist. Lora went on to college at Stanford University where she played on the Stanford Women's Lacrosse team and participated in the Stanford Overseas Study Program at Cliveden, England. Lora majored in both Economics and Mechanical Engineering and graduated from Stanford in 1985.
After four years working as an engineer for Mobil Oil Corporation, Lora attended Harvard Business School, graduating in 1991 with an MBA. After graduating from Harvard, Lora moved to the Los Angeles area where her business career included roles as a consultant at Boston Consulting Group and director of business development in the Disney Educational Software business at The Walt Disney Company.
After her success in business, Lora chose to retire and put her talent toward raising her family and supporting her community through non-profit work. Lora married Steve Wadsworth in Dillon, Colorado in 1991, and together they raised a daughter, Christina, and a son, Drew, in Pacific Palisades, California and most recently in Atherton, California.
In addition to her family, Lora's top priorities were contributing to and leading community and non-profit organizations to serve others. Lora served on the board of Palisades Lutheran Preschool from 2000 to 2004. From 2004 to 2008, she served on the board of Big Sunday, a nonprofit that organizes volunteers to work on projects to support those in need. In 2005 Lora graduated from the CORA Los Angeles Women in Leadership program.
Lora was a Troop Leader for the Los Angeles Girl Scouts of the USA in the early 2000s, and from 2012 to 2020 Lora was a volunteer and troop representative with Troop 109 of the Boy Scouts of America in the Pacific Skyline Council. Additionally, Lora held leadership roles in both the Junior League and National Charity League, and she was an active supporter of Daughters of the American Revolution, Mayflower Society and the Society of the Cincinnati.
Lora's largest charitable focus was the Children's PSC Foundation, where she served as CEO and Director of the nonprofit foundation for over 15 years. The foundation supports parents and pediatric patients with primary sclerosing cholangitis (PSC), a rare, chronic liver disease. In her role, Lora helped identify a successful treatment for certain PSC patients, contributed to ongoing research, and raised funds to identify the cause and search for a cure.
Lora was a curious problem solver, an active adventurer, a smart businesswoman, and a servant to the community with a brilliant mind and a kind heart. She was also a beautiful, dedicated, and loving wife and mother. Lora loved to travel and spend time outdoors with her family. She particularly enjoyed backpacking, hiking, biking, scuba diving and skiing and spent meaningful time adventuring in Block Island, RI and Breckenridge, CO.
Lora is survived by her husband, Steve; her daughter, Christina; her son, Drew; her parents, Samuel M. and Lois Riggs, Lakewood, CO; and her sister, Marsha Riggs Abbott, Portola Valley, CA.
In lieu of flowers, please consider a donation in Lora's memory to the Children's PSC Foundation http://childrenspsc.org.