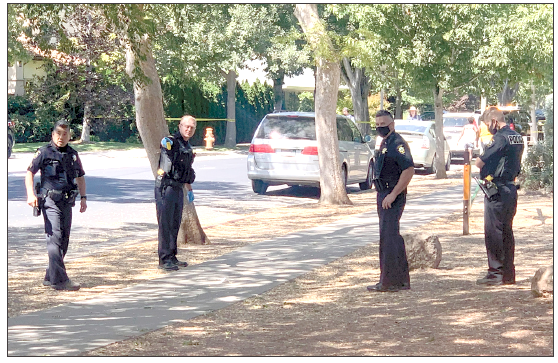 BY BRADEN CARTWRIGHT
Daily Post Staff Writer
A man fired a gun at a park in Palo Alto yesterday (Aug. 31), and then he sped off in his car with two other people, police said.
The gunshot didn't hit anyone, and the reason for the shooting is unknown, according to police.
The shot rang out at Eleanor Pardee Park at 1:27 p.m., prompting people nearby to hide in fear. Neighbors returning home to a crime scene on their street could hardly believe what happened.
Witnesses said the suspect was standing in the park at 851 Center Drive with another man and a woman, police said. After the gun was fired, all three ran together toward a silver Honda Civic parked down the block. One of the three was holding the handgun as they ran, police said.
Witnesses described the suspect as a skinny Latino man in his 20s wearing black clothes. They described his associates as another skinny Latino man in his 20s wearing a black t-shirt, and a Latina woman with straight, chest-length brown hair.
Officers canvassed the area and found several unfired bullets from a 9mm handgun where the suspect had been standing. Police said they are still reviewing surveillance camera footage from homes in the area.
Pardee Park is in a quiet neighborhood, where homes go for more than $4 million. Mark Zuckerburg lives four blocks away, and St. Albert the Great Church, which has a Catholic elementary school, is around the corner.
Ron Celaya lives right across the street from the scene of the shooting. He said the park does see some activity, such as kids drinking, but nothing like this has happened in the neighborhood before.
Father protected son
Luis Alcaraz was sitting in the shade watching his 3-year-old son dig in the sandbox when he heard the gunshot. He grabbed his son and ducked behind a tree, peaking out to make sure that nobody was coming over.
He said he saw three people jogging through a front yard toward their car, which was parked facing out from a court. They sped south on Center Drive then east on Channing Avenue, Alcazar said.
They wore red, looked like "gangbangers" and seemed like they had a plan, he said.
Alcaraz came out from hiding to talk to other witnesses and the police. He said an older woman who was walking her dog told him that the gunman shot at a parked car with four people in it, and the car then skidded off. Police did not say there was a second car in their statement.
Alcazar lives in Redwood City and said he goes to Pardee Park because it is peaceful. He used to live in East Palo Alto and knows shootings happen there, but he said he didn't think they would happen in Palo Alto.
A crime scene
By 2 p.m., police officers taped off the scene and blocked off the street. They examined the casings and measured their exact locations. They took the caution tape down at one point, but another officer arrived and asked them to put it back up.
Around 3 p.m., several officers continued to walk the scene and look at trees and the ground for any clues.
By 5 p.m., the street was still coned off but only one police officer remained in his car. Kids rode their bikes and scooters, mothers walked with their strollers and joggers jogged by.