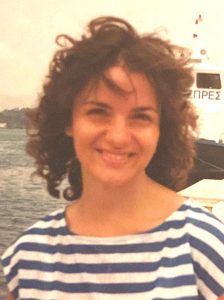 Longtime Stanford resident Ranna Kitanidis has passed away at the age of 65.
Born on April 10, 1956 in Athens, Greece, Ranna married Peter and moved with him to the United States in 1976. They raised three children, lived in four states, and traveled the world. Ranna held a law degree from the University of Athens and an MBA from the University of Iowa, and worked as a programmer at Hewlett Packard. As a local educator and tutor, she inspired her students to excel in algebra, geometry, Latin, and classical literature.
A talented cook, Ranna loved to invent gluten-free Greek recipes. She enjoyed writing, and self-published her first novel under a pen name in 2019. Her many other creative talents included dancing, jewelry making, and gardening. Known for her warmth and kindness, Ranna made friends wherever she went. Her memory will be cherished by the many people whose lives she touched.
Ranna is survived by her husband Peter; her three children, Phoebe, Dean, and Ellie; her brother Christos; and her granddaughter Daisy.