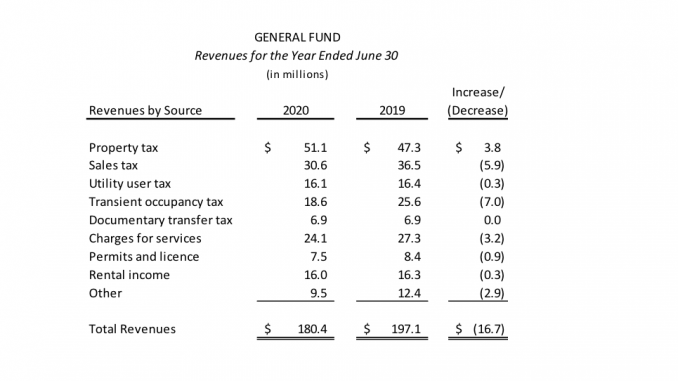 BY KYLE MARTIN
Daily Post Staff Writer
The city of Palo Alto's general fund saw a $16 million shortfall in tax revenues because of the Covid pandemic during the fiscal year that ended on June 30.
The pandemic began in March and only affected the last four months of the fiscal year. So, in those four months, the pandemic cost the city coffers at least $16 million.
Now, in the current fiscal year that started July 1, the city is operating on a $107.2 million general fund budget. That's down from the $123.2 million budget during the previous fiscal year.
Currently the city is spending more money than it takes in due to the expenses arising from the pandemic, Administrative Services Director Kiely Nose told council last night (Jan. 11).
Nose's comments came as she presented to council the Comprehensive Annual Financial Report, or CAFR, on Palo Alto's spending for the fiscal year ending June 30, 2020. The report is prepared by an independent auditor who reviews the city's books, checks to see if the city is following accounting standards and looks to see if the city's internal controls are adequate.
(The $16.7 million shortfall in the general fund can be found on page 64 of the CAFR.)
To prepare for a decrease in revenues due to reduced sales and hotel tax revenues, council made a number of budget cuts in May. The purpose of last night's hearing wasn't to revisit the budget cuts but to approve the CAFR.
Still, Councilman Greg Tanaka said he wanted to cut the city's spending capital improvements, such as construction of the city's new, $115 million police building at 250 Sherman Ave., and use that money to restore budget cuts council made in May.
Vice mayor Pat Burt told council he somewhat agrees with Tanaka, but said his comments were not necessarily relevant to Monday's council discussions because the audit report detailed last year's spending decisions, and not the decisions council would make on the budget in the future.
Burt previously told the Post in a December interview that he supports cutting capital budget improvements to focus funding on community services that will serve residents immediately through the pandemic, including services such as firefighters and police officers.
Related story: Nov. 25 Daily Post — City reports $34 million surplus
Premium Content: To read this related article, please click here and Sign In or Subscribe to access our paid site.
If you have a Daily Post Archives account, your access includes Premium Content such as this article. Enter your Archives Username and Password, and you will be redirected to the article.
If you are a first-time user, please Subscribe to select a plan that meets your needs, and create an account to view premium content such as this article.