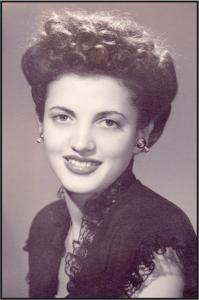 1924-2021
Dorothy Janette Kilburg nee Yola, beloved mother, wife, daughter, and grandmother passed away peacefully at her assisted living facility on January 2, 2021. She was 96 years old.
Born a twin to parents Delia and Martin Yola on September 15, 1924 in Jackson, California, Dorothy was an active resident of San Carlos for a majority of her adult life. A proud mother of six children, she was married for 45 years to the late James Kilburg: an American inventor and former Mayor of San Carlos.
After graduating in 1942 from Jackson High School, she and her family relocated to San Mateo to assist in the war effort. She became a secretary and met her future husband at International Totalizer, a converted wartime plant. In 1949, Mr. Kilburg invented the Dialaphone, the world's first electrically operated speed dial telephone, and in the early 60s the Geochron – the world's first global time indicator.
Dorothy was truly her husband's best foot forward: a charming ambassador for both of her husband's business ventures, as well as city politics. She was just as genuine and affable dining with Shirley Temple Black as she was selling hot dogs at the snack stand at Burton Park in San Carlos. Following her husband's death in 1985, she continued to work at Geochron – until the day the company was sold in 2007.
She did all this while raising six children. The original multi-tasker, Dorothy thrived at being a homemaker, a mother, a mentor and best friend. "Grandma Dorothy's" determination, work ethic, compassion, quick wit and sense of humor were among her many endearing qualities.
Dorothy loved sports and she was supportive of all of her children's and grandchildren's athletic endeavors. She was an ardent fan of the San Francisco Giants, and in particular catcher Buster Posey. She also had a passion for gaming. She loved to travel to all of the Northern California casinos and try her luck at the slot machines and crap tables.
In her later years, she became home bound and was cared for by her daughter Jackie. Dementia and failing mobility necessitated residence at the assisted living community of Silverado in Belmont. She was a resident until the day she died.
The greatest gift that she bestowed upon her family? A lifetime of unconditional love.
Dorothy is survived by her daughter Jackie, her sons Ronald, James and Robert, grandchildren Ron Jr., Gina, John, Julie, Leanne, Stacy, Matthew, Brett and Lauren, and several great grandchildren. She is preceded in death by her sister Doris, husband James and daughters Kathy and Diane.
There will be a private family service in honor of Dorothy. In lieu of flowers please consider a donation to the San Carlos Adult Community Center or San Carlos Little League in Dorothy's name.