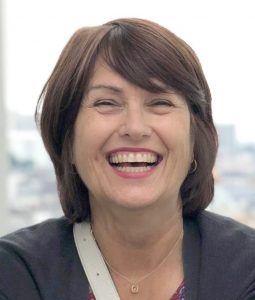 On December 13, 2020 the world lost a super hero. Her super powers included the ability to navigate San Francisco streets without GPS; an unparalleled talent to impeccably name the designer of every piece of fashion on the screen or street; being the best listener and always able to say or not say just the right thing; and most powerfully, the unique ability to make every person she touched the best version of themselves by unwaveringly believing in them more than they believed in themselves.
Kirstin loved fashion and hated clichés, as such we'll avoid saying that her electric smile, her sense of humor, her fortitude and especially her kindness are what will be most missed. We'll also ignore that she made everyone's birthday an event to behold and never without an unbelievable made-from-scratch cake; that at a whim she could instantly whip up an elaborate breakfast or fancy dessert; or how she spontaneously invented lasting new traditions. She loved the winter holidays more than anything. So the irony of the timing of her passing leaves those that knew her hearing her saying sarcastically "Of course THIS **** would happen NOW!"
Her magical ability to tell you directly what you needed to hear, somehow nestled in a warm embrace that brought you the courage to accomplish anything, was the same strength that propelled her to run the Honolulu Marathon, because she knew she could, and was the foundation that led her to always unapologetically be herself. She loved Santorini, Paris, Hawaii, Tokyo and NYC, but she loved being anywhere with her girls most of all.
She was born Kirstin Lynn Eliason, in Palo Alto, and then spent her school age years in Fremont. She graduated from Mission San Jose, then San Francisco State, then chased her professional calling in high fashion. First at Shiseido, then to Fendi and finally to Lancome; where as the regional account manager her garage was filled wall to wall with more full sized samples and promotional items than any makeup loving girl in their wildest dreams could ever imagine.
Along the way she married Ryo Koyama, which explains why an obviously white woman had a Japanese name, and she took extreme pleasure in the shocked looks she got when first meeting people who expected someone of Asian descent. The couple settled in Palo Alto (thanks to a stray cat, but that's a story for another day) where her fairy tale was to raise a family in the city where she was born.
Sixteen months after tragically losing their infant son Broderick, she gave birth to their second child, daughter Olivia, at which time she opted to leave the working life to dedicate herself to raising her family. A third child, daughter Lauren arrived three years later, and her life transformed from designer goods to Girl Scouts, field trips, and kids sports. Her charm and good looks also led the secretaries at the girls' elementary school to informally vote her and Ryo as the cutest couple, a title that she never tired of reminding her girls about.
As the children grew older and demanded less time, she scratched her itch to get back to fashion. Not wanting to compromise her family life she jumped back into the workforce close to home as a personal shopper at Neiman-Marcus, where she also doubled as the Gucci, then Akris rep. She seamlessly multitasked between new season fashion lineups, helping the girls through their teenage years, and being a basketball mom to hundreds of Palo Alto Midnight players. Next came lovingly moving the girls into their college dorms, sending too many care packages, and all the while keeping her husband grounded as he juggled the stresses of start-up life. She embraced the "best wife ever" mug that Ryo gave her like a legal doctrine, brandishing it proudly to settle any disputes.
With her daughters successfully navigating their student-athlete lives at UCSD/Keio (Japan) and NYU, she was ready for her next adventure. Passionate about animal rescue, she launched Poochi-foods, a handmade dog food business, whose proceeds would benefit animals in need.
Sadly, shortly after the successful launch of Poochi-foods, came a dreaded stage 4 non-small cell lung cancer diagnosis, a disease afflicting way too many non-smoking females today due to insufficient screening. Bravely battling for almost two years, her desire to not want to leave her family gave her the strength to fight through too many treatments, knowing her work wasn't done. Ultimately the toll that this all placed on her, weakened her body to the point where suddenly her heart just gave out.
She will forever be missed and is survived by: her husband Ryo; her daughters Olivia and Lauren; her parents Donald and Lucille Eliason; her brother Brent; her sisters in-law Dee, Hana and Kei; her brothers in-law Bart and David; her nieces Leah and Paige; her nephews Clark, Austin, Noah and Caleb; the greatest friend anyone could ever have Linda; and countless other friends and family. She was preceded in death by her son Brodie and her loving pets: Heidi, Sunny, Percy, Cooper, Chopin, Doraemon, Kiki, and Kuma.
An informal virtual remembrance was held on Sunday December 20, 2020
Please email kirstin@koyama.net to receive a link to the recording.
Kirstin was put to rest, along with her son Brodie at Alta Mesa Memorial Park on Tuesday December 22, 2020 in a small private gathering of friends and family.
In lieu of flowers, contributions may be made to our GoFundMe for the Palo Alto Creamery – a local restaurant that is a staple to both our hometown and our family. As Kirstin always made an effort to personally help others directly, we wanted to make sure to choose a local cause that we knew needed help now. We apologize in advance that any contributions will not be tax deductible – but hope that this will bring more visibility to the challenges these businesses are facing and the barriers in place that make it even harder for the local community to support them.
gf.me/u/zdbkzy