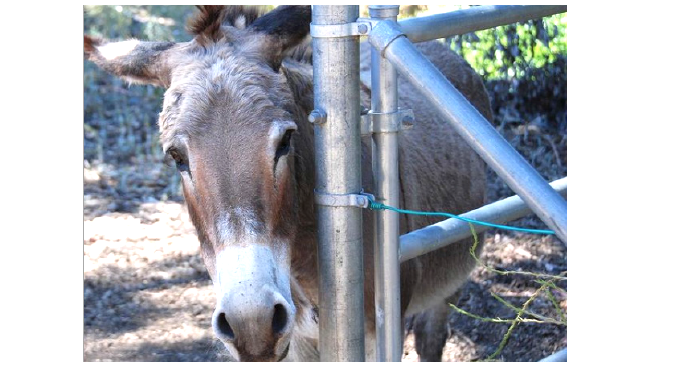 BY KYLE MARTIN
Daily Post Staff Writer
Jenny, one of the donkeys who lives in Palo Alto's Bol Park, has been euthanized because illnesses related to aging, the Palo Alto Humane Society said Friday.
Jenny was in her 30s and was put down on Wednesday, said Carole Hyde, executive director of the humane society.
"That's a long life," Hyde said.
Jenny was suffering from internal bleeding in her abdomen and a possible tumor somewhere in her body caused by aging.
"I think many people in Palo Alto will be sad," Hyde said. "I think we all have a tender heart for the donkeys." Jenny was one of two donkeys living in the park, located in the Barron Park neighborhood.
The remaining Bol Park donkey is Perry, who is considered a de facto symbol of Palo Alto. He served as the model for the character Donkey in the Shrek movies.
Jenny joined Perry in late 2016 after Perry's longtime companion, Niner, died.
Over the past two years, the humane society has been donating money for the two donkeys veterinary care. The society plans to support Perry, and hopes that he will get a new companion soon.
"They're strong. You can tell they're powerful. Jenny I think was particularly sociable," Hyde said. "I hope they find a friend for Perry quite soon."
Until then, Perry continues the tradition of donkeys residing in the park that has lasted from the 1930s when the surrounding Barron Park neighborhood was just farmland instead of single-family homes, as it is now.