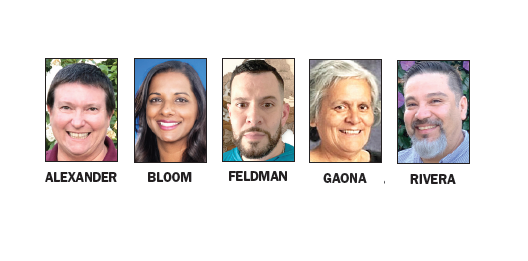 By EMILY MIBACH
Daily Post Staff Writer
Seven candidates are facing off for two seats on the Ravenswood City School District board, which has been suffering from decreasing revenue because of dropping enrollment in the K-8 district that serves East Palo Alto and east Menlo Park.
Sharifa Wilson, who has been on the board since 2008, has opted not to seek re-election, while incumbent Marielena Goana is seeking a second term. At least one new face will be added to the school board.
MARIELENA GAONA, 61, is a special education teacher at Redwood City School District. Goana says she is seeking re-election because while she has made some changes, the district has more to do when it comes to preparing middle school students for high school and beyond.
During her four years on the board, Goana says she found that there were disciplinary issues that were not being handled well enough at the middle school.
She brought them to the superintendent's attention and things changed.
Gaona was also the only voice on the board calling for ex-superintendent Gloria Hernandez-Goff's resignation before a new board fired her in 2019 after Tamara Sobomehin and Stephanie Fitch were elected to the board in 2018.
JOEL RIVERA, 46, is a construction labor manager who says he wants to provide a well-rounded and opportunity-filled education for students. He wants to continue the momentum that has occurred in the district under Superintendent Gina Sudaria, and improve upon increased transparency and communication in the district.
Rivera's priorities include increasing enrollment through providing preschool, before school care and highlighting educational programs.
BRONWYN ALEXANDER, 54, is a language and literacy specialist at San Mateo-Foster City School District who previously taught for Ravenswood.
Alexander says she decided to run after watching the district make progress in some areas over 15 years and then backslide under Hernandez-Goff when there was distrust throughout the district. Her priorities are increasing enrollment, improving fiscal responsibility and reducing inequalities.
JENNY BLOOM, 35, is an education and college counselor for Insight Education. She has a daughter who attends kindergarten in the district and a son in preschool and thinks that her perspective as a parent would be helpful to the board.
Bloom says her priorities include being a parent advocate on the board, finding ways to support teachers and building a mentorship program.
ZEB FELDMAN is a principal contract negotiator for the Operating Engineers Union. He is running because he has the negotiating and budgetary experience to work on solutions to make families choose the district over other districts.
Feldman says his priorities include working on apprenticeship programs for students, recruiting quality teachers and non-teaching employees and reducing charter schools by improving the district.
Candidates Mele Latu and Julian Garcia did not respond to the Post's inquiries. Garcia, who attended Ravenswood schools, ran in 2018 with the intent to clean up the district. Latu worked at Ronald McNair Academy and Cesar Chavez Ravenswood Middle School for four years connecting students and families to mental health and social services.