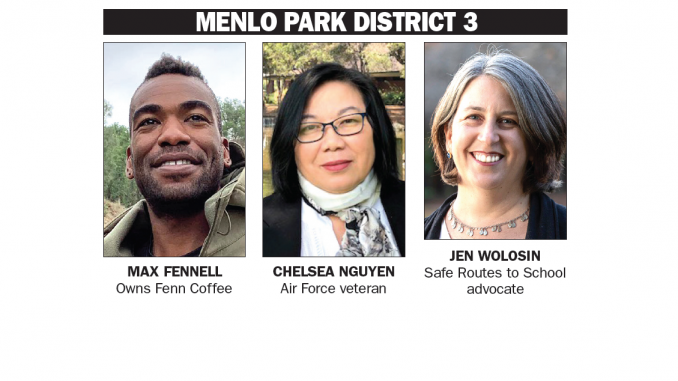 BY EMILY MIBACH
Daily Post Staff Writer
A triathlete, a safe routes to school advocate and an Air Force veteran are the three candidates running to represent the Menlo Park residents in District 3, which covers the Vintage Oaks, Linfield Oaks and Felton Gables neighborhoods.
All three want to bring about improvements in Menlo Park's Police Department.
No one currently represents District 3 so it's certain that council will have a new member after the election.
Here's a look at the three candidates.
Max Fennell, 33, is a professional triathlete and owns Fenn Coffee, a small coffee roasting company. He has lived in Menlo Park for four years and is running because he thinks it is time residents are "truly represented by an elected official that can relate to their neighbors. Those of us dealing with the high cost of living, being discriminated against and sitting in commuter traffic deserve to have our voices heard."
His top priorities would be to improve community relations with the police, prevent extreme rent increases and increase the amount of affordable housing in the city. The one item that he disagrees with the most that the council has done in the recent past is the denial of his proposal to provide free swim lessons at Kelly Park.
Chelsea Nguyen, 56, is a program manager for Cisco and an Air Force veteran. She has lived in or near Menlo Park for the last 40 years after she and her family were sponsored by the Menlo Park Presbyterian Church as refugees from Vietnam. She has three children, two in the military and one who lives at home.
Her top priorities are to add affordable housing, improve alternative transportation in town and the environment. Nguyen says that in the past year the council has not done enough on affordable housing.
Jen Wolosin, 46, has been a fixture at council meetings for the last few years, advocating for safe routes for children to bike or walk to school. She has also become an advocate for equality across the city and housing. She has been on a handful of transportation-related committees and task forces in the city and area. She has two children, a 12-year-old daughter and a 10-year-old son.
Wolosin's top priorities include preserving and adding affordable housing, climate change and adding sidewalks and bicycle lanes around town, making it so everyone can get around town. Wolosin says she disagreed with the council's decision last year to buy a half-million-dollar RV-sized vehicle called a Mobile Incident Command Vehicle. Although the council has since reserved its decision, she says that the grant money the police department was planning to use for the vehicle should have been used on updating officers body cameras, which ended up being paid for by the city.
About policing
All three had views about the future of the Police Department. Chief Dave Bertini retired July 30. He announced his retirement during a meeting about policing in town. Currently, former Pleasanton police chief Dave Spiller is the city's interim police chief until City Manager Starla Jerome-Robinson finds a new chief.
Fennell said he would like to see the chief talking with residents, specifically people who are "terrorized by our local police officers." He also says he would like a commitment from the new chief to conduct monthly community relations training with officers.
Nguyen said she wants to see someone who has a "better vision of what a good humane force looks like, who is an out-of-the-box thinker, who is not afraid to buckle the norm to make things right." She thinks that police funds should be used to create a "bigger and more diverse Community Outreach Force."
Wolosin says she wants to see a new chief who will "move the community forward," be open to hard discussions such as reallocating money from the department or removing Student Resource Officers from schools.