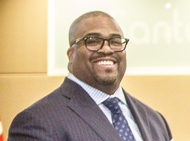 Rick Callender, a longtime employee of the Santa Clara County Valley Water District who is also the former head of the San Jose-Silicon Valley NAACP, is the new chief executive of the district.
The district, which calls itself Valley Water, collects taxes from Palo Alto property owners and participates in the partnership that is working to prevent floods on San Francisquito Creek. However, Palo Alto's water comes from the San Francisco-owned Hetch Hetchy system.
The district's board, which is elected, approved Callender's appointment in May to replace Norma Camacho, who announced her retirement in December.
Callender's salary wasn't included in a statement about his appointment today, but Camacho's regular pay in 2019 was $361,361, and with benefits her compensation was $471,146, according to the salary tracking website Transparent Cailfornia.
Callender has worked for Valley Water since 1996, most recently as the chief of external affairs, where he led the district's strategic external communications, all government relations efforts, and was responsible for keeping the agency informed of public policies that directly affect the water district.
Before joining Valley Water, Callender worked as a special assistant to former San Jose Mayor Susan Hammer, as a field campaign organizer for the California Democratic Party, as a congressional fellow for House member Ron Dellums, D-Oakland.
According to Valley Water, Callender earned his bachelor's degree in Industrial Engineering and Technology from CSU-Chico and got a law degree from Northwestern California University School of Law.
Callender currently serves as vice president of the California State Conference of the NAACP and has previously served as president of the San Jose/Silicon Valley NAACP.
Callender's immediate priorities will be navigating the agency through COVID-19, while focusing on the Anderson Dam Seismic Retrofit, Pacheco Reservoir Expansion, Rinconada Water Treatment Plant Reliability Improvement Program and a flood protection program.