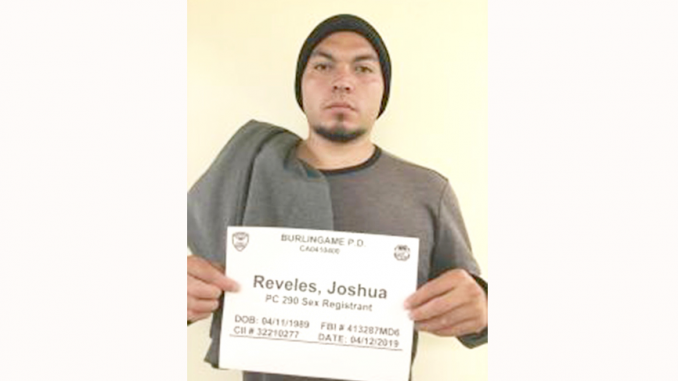 BY EMILY MIBACH
Daily Post Staff Writer
A man who a prosecutor said needs to be kept away from children because he is a "sex pervert" has been found guilty by a San Mateo County jury.
Following a nine-day trial, a jury on Thursday (June 26) found Joshua Reveles, 29, of Burlingame, guilty on two felonies and one misdemeanor for obsessively texting and calling a 17-year-old girl who he gave alcohol, and after she blacked out, ditched her in the Whole Foods parking lot in Redwood City, according to District Attorney Steve Wagstaffe.
Reveles has not been sentenced yet but is facing a maximum of 14 years and eight months in jail, the DA said. He will be sentenced on July 24.
He was registered as a sex offender for convictions in 2013 and 2015 for the same thing, talking to girls between 13 and 17 in an attempt to get them to engage in inappropriate conduct with him, Wagstaffe said.
"This guy is a sex pervert who has shown now over the last seven years he will not get over his sexual deviancy," Wagstaffe said.
On Nov. 3, Reveles saw the 17-year-old girl in downtown Redwood City, and asked her if she wanted some alcohol. When she declined, he asked for her cellphone number.
The girl gave Reveles her number, and he began texting and calling her repeatedly, saying how much he wanted to perform intimate acts on her.
On Nov. 23, the girl got off work and saw Reveles nearby. He again offered her alcohol and she drank some, Wagstaffe said. The girl blacked out because she was possibly drugged, and she does not recall what happened after until she woke up in the parking lot of the Whole Foods on El Camino Real.
The girl's family used a phone tracking app to find her. The teen's brother saw Reveles put her on the ground in the parking lot, get into a running car, and leave, Wagstaffe said. The girl and her family did not go to the police about this incident, but Reveles kept calling and texting the girl until the family reported the incident in December.
Reveles' attorney Gerritt Rutgers said that Reveles did not know that the girl was underage.