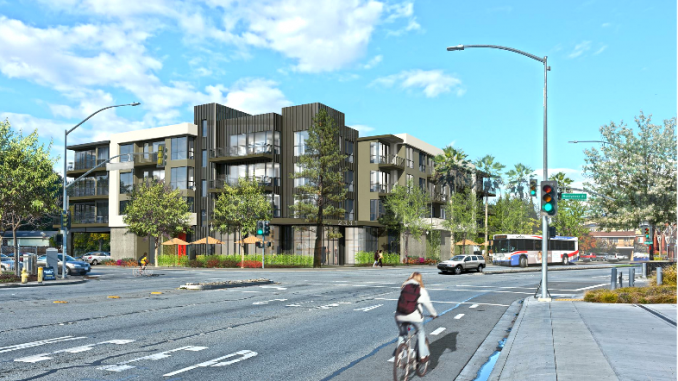 BY EMILY MIBACH
Daily Post Staff Writer
East Palo Alto City Council tonight (May 19) will vote on a housing and retail project for the corner of Runnymede Street and University Avenue, kitty-corner from Fire Station 2.
The project called University Corner will consist of 33 apartments, seven of which will be reserved for low-income earners, 2,500-square-feet of retail and 5,150-square-feet for a "residents lobby" on the ground floor, according to the proposal from John Suppes of Palo Alto-based Clarum Homes.
The project is slated to be four stories tall at 59.5 feet and have 75 parking spaces.
Aside from approving the project itself, the council will have to approve Clarum's proposal for relocating the tenants of the single-story house located on the lot that Clarum has owned since 2007. As part of the relocation agreement, the tenant can apply to live in one of the new homes being built, but will not have right of first refusal, according to a report from Associate Planner Radha Hayagreev.
Of the seven apartments, four will be offered to people earning 80% area median income, meaning a family of four would earn $129,150 to qualify. The other three apartments will be offered to people earning 120% of the area median income, where a family of four would bring in $164,750 annually.
The project comes on the city's planning commission's unanimous recommendation.
The council will meet tonight at 6:30. The meeting can be streamed at midpenmedia.org or via Zoom https://zoom.us/j/97191880949
The address of the project is 2331 University Ave. and 573 Runnymede St. It's Item No. 11 in the council's agenda packet.