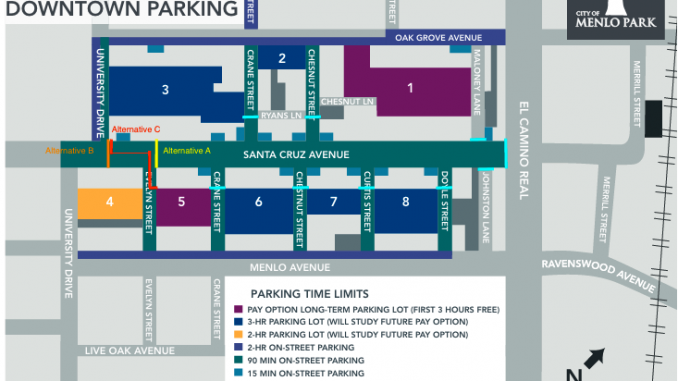 BY EMILY MIBACH
Daily Post Staff Writer
The Menlo Park City Council yesterday (May 12) gave City Manager Starla Jerome-Robinson the go-ahead to come up with a plan to close a portion of Santa Cruz Avenue, despite one councilman's fears about the project given the history of other downtown projects.
Councilman Drew Combs said he is interested in the idea, but is a bit worried how previous Santa Cruz Avenue projects wound up being rejected and detested by residents.
Combs referred to the pop-up park at Curtis Street and Santa Cruz that riled residents in 2016 and 2017, and a so-called traffic-calming that was installed, and later ripped out in 2002.
Councilman Ray Mueller said he understands Combs' concern, and said one thing that has hopefully been learned is how to execute projects along Santa Cruz better.
"The way this is different from times in the past is we are not doing this for aesthetics. This is to help businesses survive, this is a different motivation," Mueller said.
Mueller, along with Councilwoman Betsy Nash, have been working on a proposal to close Santa Cruz Avenue between El Camino and Evelyn or University Drive in order to enable businesses in the city's downtown to operate in the street or sidewalk.
Chamber of Commerce head Fran Dehn told the council that 50% of respondents to a poll she took of downtown businesses said they would have no problem or would endorse the plan. She said that her poll didn't ask merchants to say "yes" or "no" about the idea, however.
Most respondents to Dehn's survey said they want to be sure to follow the CDC's guidelines for businesses to reopen, and said they want a date for when the closure would end.
Ultimately the council told Jerome-Robinson to work with her team to come up with a formal plan to be brought back to the council for final approval. The council is not in a huge rush to close down the street since restaurants are not allowed to reopen just yet. The idea is in preparation for when they can reopen.
Jerome-Robinson said she plans on bringing a formal plan back to council on May 26.
ᐧ