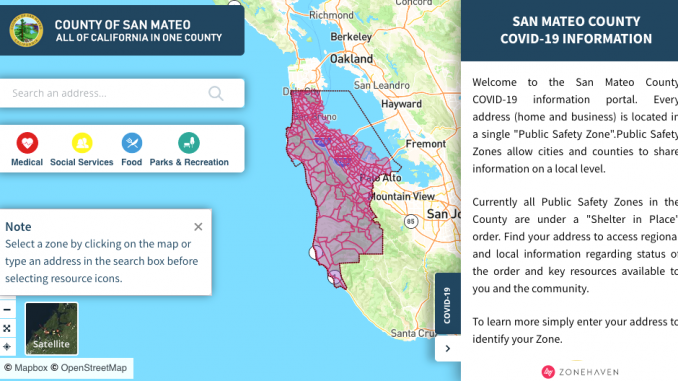 BY EMILY MIBACH
Daily Post Staff Writer
San Mateo County officials yesterday announced a new website designed to help people find open restaurants, nearby medical centers and parks.
The website, https://community.zonehaven.com/, became public yesterday, but if your favorite restaurant is not on there, don't worry, as cities are still uploading and double checking the data, said County Manager Mike Callagy.
The site was supposed to launch during fire season, but the county asked Zonehaven, which is hosting the interactive map, to expedite the process in order to help people during the COVID-19 outbreak.
As of today, San Mateo County had 309 confirmed cases of the virus and 10 deaths. The county, along with six other agencies in the Bay Area announced that the stay at home order that is aimed at slowing the spread of COVID-19, will be extended to May 3.
Users can type in an address, and then click one of the four buttons on the right hand side of the screen to see the nearby businesses and services of their choice.
The four selections users can make are: medical, social services, food and parks.