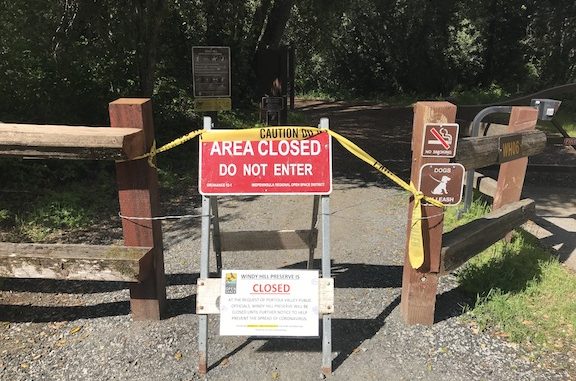 BY SARA TABIN
Daily Post Staff Writer
Windy Hill Nature Preserve has been shut down because too many people went hiking and didn't stay at least six feet from each other.
Entrances to the preserve have been taped off with "closed" signs.
Portola Valley Mayor Jeff Aalfs posted a note on the town page on Friday explaining that the Mid-Peninsula Regional Open Space District had decided to close the preserve.
The decision was made the same day San Mateo County decided to close county parks after receiving a 300% increase in visitors.
"Many of you have voiced concerns over the heavy traffic in and around Windy Hill, and I share those concerns," wrote Aalfs. "Like you, I cherish Windy Hill, both as a resource for Portola Valley residents, and as a popular destination which we share with the rest of San Mateo County and the Peninsula. However, I am pleased that they have made this decision, and I will ask you to respect the closure by not visiting."
Palo Alto parks, including Pearson-Arastradero Preserve, remain open but park parking lots are closed to discourage excessive traffic.