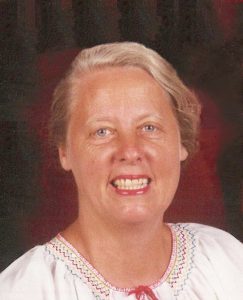 November 24, 1931 – December 11, 2019
Diethild Anna Else Price, 88, passed away at her Palo Alto home surrounded by family on December 11, 2019.
Born in Berlin, Germany, to Hans and Minna (Caspary) Neumann on November 24, 1931, "Dee" was the youngest of three children. Growing up, she enjoyed playing and walking in the forest and swimming in the lakes near her home in the Berlin district of Zehlendorf. Her childhood was indelibly marked by World War II. After having been evacuated for many months to Thuringia, she returned home in late 1944 and then survived the Soviet invasion of Berlin in April 1945. After the war, she enjoyed participating in the U.S. Army recreational programs for teenagers. She also lived through the Soviet blockade of Berlin (1948-49) and the tense Cold War atmosphere that permeated the city of Berlin in the 1950's.
Dee earned her Diplom (Master's Degree) in Political Science at the Deutsche Hochschule for Politik in 1956. Thereafter, in Germany, she worked for the court system and at companies in employer-employee relations. In 1959, she moved to Menlo Park, intending to stay for a half- year to help care for the children of a German friend of hers, who was studying at Stanford. Shortly after arriving, she became reacquainted with Don Price, whom she had first met while both were university students in Berlin. Marrying in July 1960, they spent time living in Paris, Zurich, and Frankfurt before finally settling in Palo Alto in 1972.
During her years in Palo Alto, Dee worked at Bank of America, the Stanford Cashier's Office, Jordan Middle School leading German conversation classes, and at the German-American School of Palo Alto as a bookkeeper. She also volunteered extensively with Friends of the Stanford Arboretum planting and nurturing trees. She loved to travel and particularly treasured many long family camping trips through the Western United States and Canada. With Don, she also spent happy weeks in her latter years at Lake Tahoe and going on cruises around the world. She harbored a special fondness for animals of all kinds and at various times had cats, dogs, fish, and backyard chickens.
Dee created a loving and beautiful home life with her kindness, warm and insightful conversation, delicious cooking, and a welcoming sense of style. She will be dearly missed. Dee is survived by her husband of nearly 60 years, Don, her son Dirk Price of Redondo Beach, her daughter Celia Price of San Francisco and her daughter Kirsten Essenmacher (Kirk) and granddaughters Stella and Marla Essenmacher, all of Palo Alto. She was predeceased by her brothers, Horst-Dieter and Ingo.