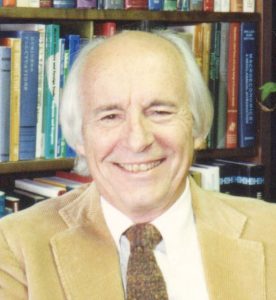 October 6, 1924 – November 23, 2019
Dr. Bert G. Hickman, Stanford University Professor Emeritus of Economics, loving husband, father and grandfather, passed away peacefully surrounded by family in Palo Alto on November 23, 2019. Dr. Hickman was born in Los Angeles, CA on October 6, 1924 to Bert George Hickman, Sr. and Caroline Elizabeth (Douglas) Hickman. He graduated with a Ph.D in Economics from the University of California, Berkeley in 1951. From 1954-1965, he served on President Dwight D. Eisenhower's Council of Economic Advisors and was a member of Senior Staff at the Brookings Institute from 1958-1966. He joined the Department of Economics at Stanford University in 1966 where he served as Department Chairman from 1975-1978. In 1969, Dr. Hickman co-founded and served as Chairman of Project LINK, a continuing international collaborative research group for econometric modelling sponsored by the United Nation's Department of Economic and Social Affairs. He retired from Stanford in 1996 as Professor Emeritus of Economics.
He is survived by his wife of 75 years, Edythe, his daughter Wendy Morris (Cris) of New Jersey, son Paul Hickman (Rebecca) of Los Altos Hills, daughter Alison Mink (Richard) of Dublin, CA and his beloved grandchildren, Geoffrey Morris, Anna Morris, Cassie Tripp, Colin Mink, James and Caroline Hickman. The family remembers his love of Yosemite, his great appreciation of the arts, and his poetry that he read often at family gatherings.
A Memorial was held on December 20 at the Stanford Faculty Club. In lieu of flowers, the family appreciates donations to UNICEF and the Red Cross.