BY SARA TABIN
Daily Post Staff Writer
Palo Alto police yesterday (Dec. 11) arrested a man who is suspected of stabbing a co-worker at a tech company off Page Mill Road in the Stanford Research Park.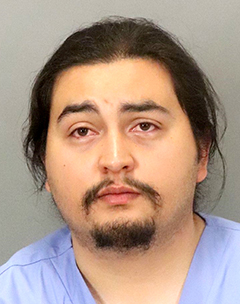 Lionel Munoz, 21, of Milpitas was booked into the main jail for attempted murder. Munoz and the victim were both contractors at Rubrik Inc., a cloud data management company located at 1001 Page Mill Road.
Police said Munoz surprised the victim and stabbed him from behind in the mailroom. Munoz chased the victim outside. The victim ran back into the building and another employee locked the door, preventing Munoz from attacking the victim again, police said.
Munoz was covered in blood and running through a parking lot with a knife when police arrived, according to a police radio transmission. Police took him into custody at 2:25 p.m. without incident.
The victim, who was rushed to a hospital, didn't appear to have life-threatening injuries, police said.
Adrian Valdiosera, a Rubrik employee, told the Post he is friends with the victim. He said he saw the suspect in the building.
"I was running. I saw the guy. That's all I remember," said Valdiosera as he was leaving Rubrik's campus after being interviewed by police. Valdiosera said he believed the victim would recover.
Random attack
Derek Kwan, another Rubrik employee, said he was told that a temp worker stabbed another worker, though he didn't see the assault. He said he didn't know why it happened, and that it seemed random.
Kwan said he was one of the people who called the police in the aftermath of the stabbing.
Another man who said he works for Rubrik, who refused to give his name, said he saw the suspect in handcuffs in the parking lot. He said he didn't see the stabbing, but he said the situation was "spooky."
The police cordoned off parts of Rubrik's parking lot yesterday afternoon. More than a dozen police cars surrounded Rubrik's campus. Shortly after 3 p.m., the police kicked everyone out of the outdoor plaza at the center of the campus after finding what appeared to be blood drops on the walkway tiles.
A man who identified himself as a spokesman for Rubrik told the Post that the company had no statement.