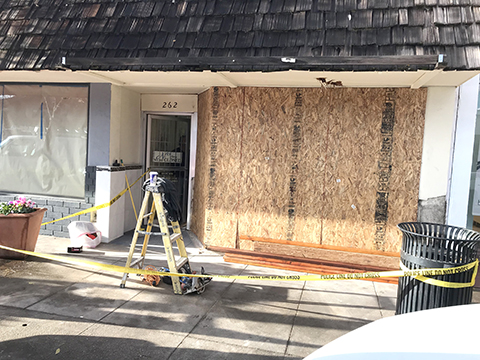 BY SARA TABIN
Daily Post Staff Writer
Thieves used a stolen truck to smash the front window of a jewelry store on Main Street in Los Altos so they could get inside and grab merchandise.
The suspects crashed into Marcel Jewelry Design, 262 Main St., at 2:30 a.m. Monday (Dec. 2).
After breaking through the front of the store, their truck got stuck — and it was found partially inside the store after the heist.
Police Sgt. Eric Bardwell said the thieves took merchandise and then fled, leaving the truck behind.
The thieves used a white BMW as their getaway car, according to surveillance video shown on NBC Bay Area.
He said the owner of the stolen truck did not realize it had been taken at the time of the robbery. The truck has not been returned to its owner because it is being held as evidence.
Bardwell would not give the value of the stolen merchandise or how many thieves were involved.
The store's owner couldn't be reached for comment. But the owner told NBC Bay Area that this is the third break-in at his store in the past few months, and he's thinking about closing.