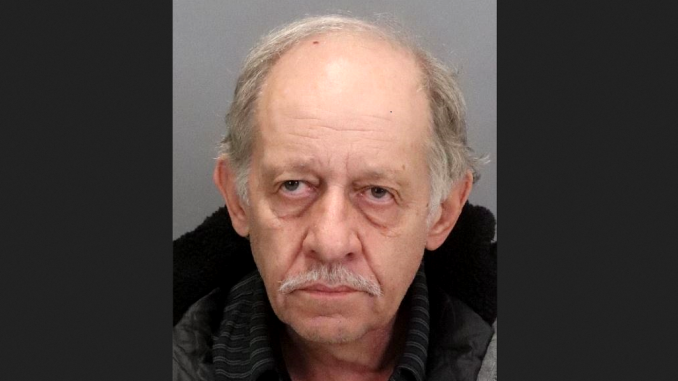 Palo Alto police said today (Oct. 29) they've arrested a 66-year-old man who was using his cane to attack drivers in two separate instances of road rage.
At 5:10 p.m. Friday (Oct. 25), Kenneth Edward Greene drove his Ford truck from behind a male victim and blocked his path across two lanes near the intersection of High Street and Hamilton Avenue in Palo Alto, police said.
Greene then exited his truck, damaged the first victim's hood by swinging a walking cane at his vehicle and attacked the victim with the same cane through the victim's driver side window, then got in his truck and fled, according to police.
The victim, a man in his 20s, suffered injuries to his face but declined medical treatment.
Later, at about 5:30 p.m., Greene hit the car of a woman in her 60s in the 700 of San Antonio Road, police said.
During the second altercation, Greene tried to hit the woman multiple times with his cane, took her keys from her hands, threw them on the street, retrieved them, then placed them in his truck.
Greene, of Valley Springs (Calaveras County), was booked into the main jail in San Jose on suspicion of multiple felonies, including assault with a deadly weapon, vandalism, robbery, elder abuse and a hate crime, police said.
Police said Greene was booked on a hate crime charge because of statements he made about the first victim's sexual orientation that could have motivated the attack. He's also accused of robbery because he allegedly stole the second victim's keys, police added.
He has a court date scheduled for noon tomorrow (Oct. 30) in Santa Clara County Superior Court.