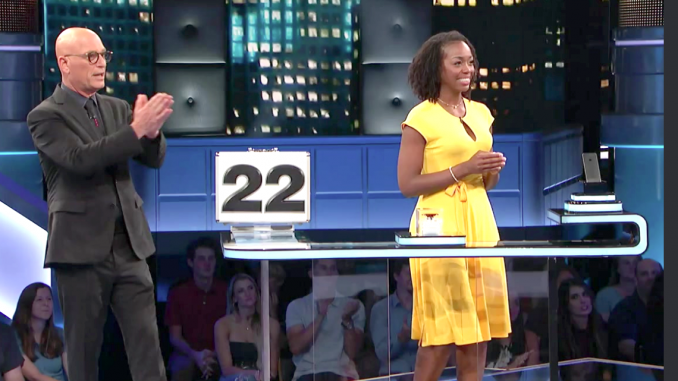 BY EMILY MIBACH
Daily Post Staff Writer
A woman wanted for allegedly cheating a 66-year-old Redwood City woman out of her home in a reverse mortgage scam appeared on the game show "Deal or No Deal" and won $400,000 before getting arrested, a prosecutor said.
Tonika Miller, 34, of Studio City, appeared on an episode of "Deal or No Deal" that aired on June 12. Miller told host Howie Mandel that she loves playing the board game Monopoly with her family and that she plans to go all-in just like she does with her family.
Ultimately, Miller won $400,000 and a 2018 Chrysler Pacifica on the game.
After winning, Miller told CNBC that she plans to create a nonprofit that provides low-cost housing for homeless veterans and the elderly.
"Growing up in poverty can make you live according to how you think you're going to survive or how you're going to get by. But because I had a childhood where I had to grow up fast and be responsible fast, it's going to help me appreciate this experience like 10 times more," Miller told CNBC.
Miller was arrested over the summer, after which authorities learned about Miller's TV appearance, said District Attorney Steve Wagstaffe.
"She knew the cops were looking for her. It's kind of ballsy to hop on a game show," Wagstaffe said.
Actor was involved
Miller was wanted in San Mateo County at the time of her "Deal or No Deal" appearance in connection to a scam she and actor Justin Hall, 37, of Van Nuys, allegedly pulled on a 66-year-old woman.
The scam is believed to have begun on July 23, 2018, just a few weeks before the tax collector was to auction the victim's home. That day Miller took the woman to Applebee's, bought her two margaritas and then offered her a $500,000 reverse mortgage, according to Wagstaffe.
The reverse mortgage, Miller told the woman, would allow her to live on the property until she died. When the woman agreed, Miller gave her $1,000 in cash and had her sign a grant deed in favor of Rex Regum LLC, which is owned by Hall, Wagstaffe said.
The deed claims that the woman was paid $800,000 for her home, but she says that she never received the money, nor did she know what she was signing at Applebee's. Hall recorded the deed on July 23, 2018, and paid off the late property taxes.
County employee had a suspicion
But something looked suspicious. An employee in the county Recorder's Office noticed that the $800,000 was far below the market value of the house, which was assessed to be between $1.5 million to $1.7 million. So the recorder's office contacted the DA to look into the situation.
DA's Inspector Dave Wilson interviewed Miller about her role in the transaction. A few days after that initial interview, Miller told Wilson that she "cleared everything up" with the victim.
Miller "cleared everything up" by giving the victim another $1,000, according to the DA.
On Aug. 22, 2018, Hall sold the property to someone else for $997,000.
On Aug. 31, 2018, Miller went to the woman's house with a U-Haul and tried to get her to move out, said Wagstaffe. Miller brought a real estate agent with her to help the woman find a new home in Auburn.
However, the real estate agent became suspicious of Miller and called the Redwood City police.
Officers came to the home and ordered Miller to leave, according to the DA's office.
'Star Trek' role
Hall was arrested earlier this year, and it was discovered that he has a Hollywood background, serving as a producer of a Dave Chapelle special and performing in a "Star Trek" movie.
Hall had a career as an actor, stuntman and producer from 2002 to 2009, according to his IMDB page. He had bit parts in the 2009 Star Trek "The Future Begins" movie as a Starfleet security officer, and was an extra in "Dreamgirls," "Akeelah and the Bee," "The Terminal" and "Coach Carter."
Hall also did stunts for movies such as "The Italian Job," the 2008 "Incredible Hulk" and "Spider-Man 3."
Hall was a producer for Dave Chappelle's TV Special "For What it's Worth," his IMDB page states.
One's jailed, the other bailed
Hall is out of jail on a $1.1 million bail bond and Miller is in jail in lieu of $300,000. Both are slated to appear in court on Nov. 22.