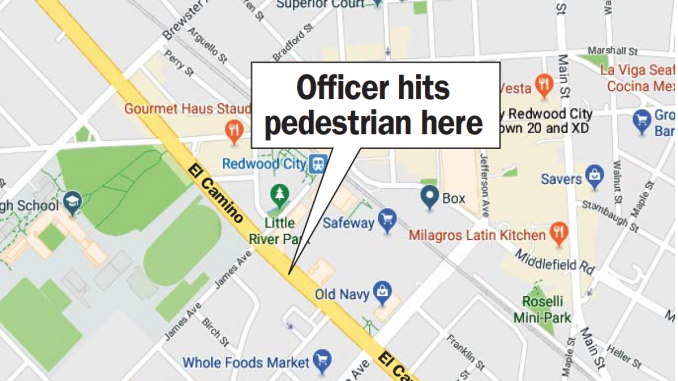 A Redwood City police officer struck and seriously injured a pedestrian on El Camino Real while responding to a report about a possible home invasion robbery in progress this morning (Sept. 18).
A call came in at 9:47 a.m. reporting the home invasion in the 300 block of Poplar Avenue involving four masked male suspects, police said.
An officer with 12 years on the force for Redwood City had a police dog in a patrol car and lost control of the vehicle as it traveled south on the wet roadway of El Camino Real south of James Avenue, across from Sequoia Station, according to police.
The patrol car struck the center median of the roadway and a man standing on the median. The police vehicle then continued into the northbound lanes of traffic where it hit two other vehicles before coming to a stop on the east sidewalk, police said.
The pedestrian was taken to a hospital to be treated for what are believed to be serious injuries. An update on his condition was not immediately available Wednesday afternoon.
The officer involved was also hospitalized as a precaution, and the police dog did not appear to be injured but will be examined by a veterinarian, police said. The drivers of the other vehicles hit by the patrol car were assessed at the scene and then released.
No other information about the robbery the officer was responding to have been released by police.
— Bay City News