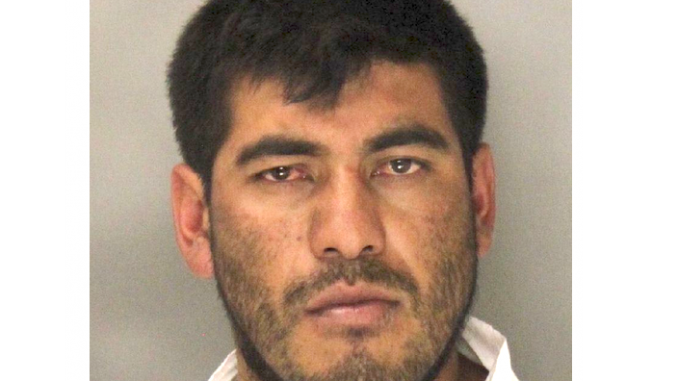 By the Daily Post staff
A transient has been arrested on suspicion of attempted rape and other charges after he allegedly grabbed a woman in Mountain View's Creekside Park and tried to carry her away, police said.
Arrested was Sergio Martinez, 30, a transient, police said.
On Friday (July 19) at 9:42 p.m., a 29-year-old woman was walking in the park, located on the 200 block of Easy Street, listening to a podcast when a man came up from behind her and put his hand over her mouth. The man then lifted the woman off of the ground and attempted to carry her off, but the woman bravely fought back and began kicking and screaming, police said.
Two people walking nearby heard the disturbance and began to walk toward the noise. The man became spooked, let go of the woman and ran away, according to police.
Police said they responded to the park quickly and searched for the man, but couldn't find him.
At around 3 a.m. on Saturday (July 20) officers responded to reports of a prowler on the 200 block of Easy Street. As officers were investigating, one of them spotted a man walking away from the area who matched descriptions provided by the victim and the witnesses who came to help her, according to police.
The man, identified as Martinez, was detained for prowling and brought back to the police station for further inquiries. Mountain View detectives were able to determine that Martinez was the same man who had attacked the woman in Creekside Park hours earlier.
He was arrested and booked into jail for attempted rape, attempted kidnapping and false imprisonment. He was also arrested on prowling charges.
"The great work between the patrol teams and the investigators brought a swift resolution to this case," said Lt. Armando Espitia. "Our officers were alert, they pieced information together quickly, and our investigators were incredible in helping start to close out this terrifying experience. We will continue to stay vigilant and to work to keep our community safe."
Mountain View detectives are looking into the possibility that Martinez may have additional victims. If you recognize him, you're asked to contact Detective Robert Medina at [email protected].