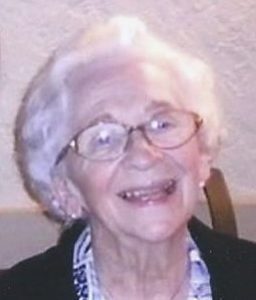 May 16, 1924 – May 4, 2019
RESIDENT OF PALO ALTO
Jean Ellsworth Williams passed away in her home just 12 days shy of her 95th birthday. She was preceded in death in 2015 by her loving husband of nearly 65 years, Philip.
Jean was born in Deer Lodge, MT and spent the early years of her life in the small town of Helmville, MT. She moved with her family to Deer Lodge when she was 7 years old. Jean attended Montana State Normal for college (now known as University of Montana Western) and taught for one year prior to meeting Phil when they were both working summer jobs at the Lake Lodge soda fountain in Yellowstone Park in 1950. They were engaged to be married after knowing each other for only 10 days. Following their wedding that September, they moved to the town of Menlo Park, CA, and then purchased their first home in Palo Alto, CA in 1951. With the arrival in early 1955 of their third child, that prompted the move a short distance away to a larger home in Palo Alto, where they lived for the rest of their lives.
As with so many women in Jean's generation, she enjoyed being a stay-at-home mom. At the same time, Jean was interested in continuing her education and enrolled at San Jose State in 1964, where she was invited to join the Beta Alpha Chapter of Kapp Delta Pi, a national education honor fraternity to which she was inducted in January of 1965.
Jean loved to travel with Phil up to Yosemite and loved experiencing Disneyland with her grandchildren. She also enjoyed weekends up at the family cabin in Felton, CA, which was just an hour away and the site for many memorable weekends for the 50 years that it was owned by the family. Jean also traveled back to Montana periodically to visit friends and relatives.
Jean was always very interested in other people. She enjoyed the company of many long-time women friends in the "Coffee Group" from Van Auken Circle for decades, as well as lady friends with whom she enjoyed playing bridge. Jean was plagued by macular degeneration in later life, but always had a great attitude.
She was raised in the Catholic faith and, along with her husband, Phil, attended various Catholic churches in the Palo Alto area over the years, most notably Our Lady of the Rosary, St. Albert the Great and St. Ann's.
Jean is survived by her three children, Don Williams (Suzanne) of Milpitas, Anne Santiago of Alameda and Gregg Williams (Barbara) of Sunnyvale, as well as her four grandchildren, Kristina Reynolds (Soren) of Alameda, Katherine Williams of San Jose, Danielle Williams Howard (Jeremy) of Santa Ana and Robert Kim (Melanie) of San Jose, and her great grandchildren, Tyler Gonzales and Jackson Reynolds of Alameda.
Interment took place on June 12th at Alta Mesa Cemetery in Palo Alto.