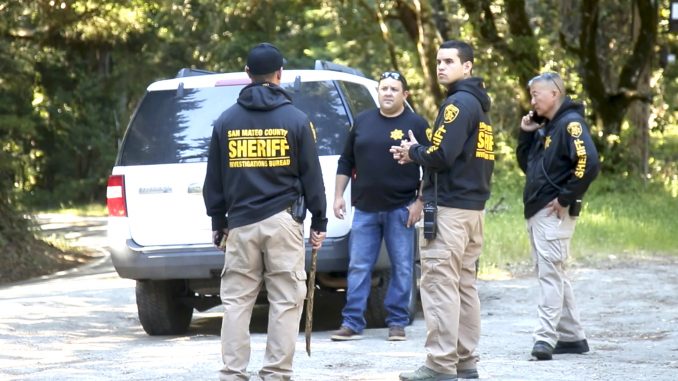 BY EMILY MIBACH
Daily Post Staff Writer
San Mateo County sheriff's deputies have found two murder victims on the side of Skyline Boulevard within a 24-hour period, and a suspect in at least one of the murders was arrested after he drove at deputies, who opened fire on his vehicle.
It began Monday night at around 11 when a deputy found the body of AbdulMalek Nashar, 32, of Pacifica, on the west side of the road just north of Reids Roos Road. He had been stabbed to death.
On Tuesday night, deputies returned to the area where Nashar's body had been found to look for additional evidence. At 11:55 p.m. Tuesday, deputies heard someone calling for help and they found a man with stab wounds lying on the ground in a turnout off Skyline Boulevard.
That man, who would later die, was identified as John Sione Pekipaki, 31, of East Palo Alto.
Around the same time, deputies saw a man in a BMW driving toward them. Deputies fired at the oncoming BMW, and the car drove off the roadway and into a ditch.
The driver of the BMW, Malik Dosouqi, 26, of Pacifica, was not shot, but he suffered a laceration to his arm in the accident.
Deputies arrested Dosouqi. He was carrying a "large flat knife" that he used to threaten a tow truck driver, deputies said over the police radio.
Dosouqui was then taken to the hospital for the laceration to his arm. The sheriff's office did not say how badly Dosouqui's arm was injured.
Dosouqui is suspected in the murder of Pepipaki, whose body was found late Tuesday night. And because Pepipaki and Nasher's bodies were found in the same general area, investigators are looking into the possibility that they were murdered by the same person.
At a news conference yesterday, Sheriff's Lt. Stephanie Josephson was not willing to say that the two killings were related, but a deputy heard on the police radio Tuesday night said he thought Dosouqui was the murder suspect from the night before.
Dosouqui is currently on probation in a Pacifica case, said District Attorney Steve Wagstaffe. In March, Dosouqui had been seen walking in and out of traffic on Highway 1 and touching strangers, when a deputy tried to confront him, Dosouqui fought with him, Wagstaffe said.
Dosouqui pleaded no contest on May 31 to disturbing the peace and sentenced to a year of probation.