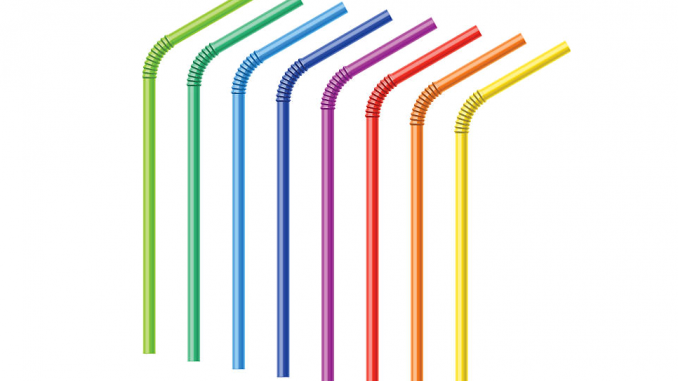 By the Daily Post staff
Palo Alto would ban plastic straws, utensils and cocktail stirrers under legislation that will go to City Council for a vote on Monday (June 10).
Instead, restaurants would have to provide substitutes that are reusable or compostable.
The city Public Works Department is also proposing that restaurants only provide printed receipts at the request of the customer.
Council will consider a proposal to require grocery stores and farmers markets to only offer compostable or biodegradable produce bags.
The proposed new laws will also require residents to stock up on blue and clear bags when they put out the trash and recycling. Public Works is proposing that residents use blue-tinted bags for recyclables and clear bags for garbage headed for the landfill.
Building demolitions
A separate ordinance up for consideration on Monday would essentially replace the demolition of old buildings with deconstruction. The difference is more than semantic, though.
"Deconstruction involves buildings or structures being systematically taken apart thereby allowing materials to be kept unbroken and separated, making it easier to reuse and recycle," said a report from Public Works Director Brad Eggleston and City Manager Ed Shikada. "This differs from traditional demolition, where an excavator knocks down a whole building with all the materials within the structure being smashed and combined into a container."
While the deconstruction process would reduce the amount of material going into the landfill, the cost would be significantly higher.
The report says that while the demolition of a house would cost $8 to $12 per square foot and take a couple of days for a crew of three, the deconstruction of the same house would run between $22 and $34 per square foot and take a crew four to eight people 10 to 15 working days.
The report cites research from the Environmental Protection Agency and the city of Portland, Ore., which has such an ordinance, that found up to 25% of materials in some homes can be reused and 70% can be recycled.
While Palo Alto would be taking Portand's approach when it comes to deconstruction, the city is following other cities when it comes to banning plastic drinking straws and other foodware items.
The report includes a chart comparing Palo Alto's proposed ban with those in San Francisco, Berkeley, Santa Cruz, Malibu and other cities.
Starting in January, the state began requiring full-service restaurants to only provide straws upon request, but the legislation exempted fast-food restaurants.
While the proposed ban in Palo Alto would apply to single-use plastic foodware items, such utensils could be offered by a restaurant upon request or in a self-service area.
The proposed bans are in response to the city's Sustainability/Climate Action Plan, or S/CAP, a framework for legislation approved by council in 2016 with an eye toward reducing 95% of the waste headed for the landfill by 2030.
The preamble to the ordinance banning plastic straws says in part, "The practice of freely giving customers disposable foodware and single-use, non-recyclable produce bags encourages customers, retailers, and food vendors to pay little attention to the quantity of disposable packaging products they consume and the associated environmental impact."
If the ban on plastic straws and other foodware is approved, it would go into effect on Jan. 1, 2020.
The requirement for grocers and farmers markets to only offer compostable or biodegradable produce bags would start on July 1, 2020.
The deconstruction ordinance, which the city estimates would apply to 114 projects a year, would also begin on July 1, 2020.