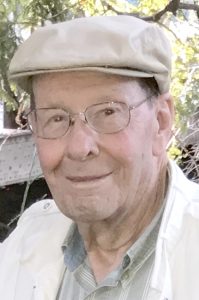 Robert Harmon Carlstead, 90, of Palo Alto, CA passed away April 28th, 2019 at Stanford Hospital. Robert "Bob" was born in 1929 in Chillicothe, MO to Edward Robert Carlstead and Sarah Katherine Kerr. After graduating high school in Webb City, MO, Bob attended the University of Missouri and received a B.S. in Business Administration in 1952. While at Mizzou, he enrolled in the NROTC and served in the US Navy for 4 years as a 1st Lieutenant. While on a midshipman cruise aboard the USS Springfield, his ship crossed the Equator where he was inducted into the Ancient Order of the Deep as a "Trusted Shellback". His Naval tour of duty included South America, the Panama Canal, the Caribbean and Guantanamo Bay.
Following his tour in the Navy, Bob attended Oklahoma State and earned a B.S. in Electrical Engineering in 1957. With a job offer from Lockheed Space and Missiles in hand, Bob drove out to sunny California on Route 66 and resided in Santa Clara. One day at work, he tripped over the foot a beautiful redheaded woman. The chance encounter led to friendship and later marriage to Mary Louise Braxmeier in 1960. Together they raised three children in Palo Alto, CA. While working full time and raising their children, Bob earned a Masters Degree in Electrical Engineering from Santa Clara University and remained a Registered Professional Engineer in California throughout his career.
Bob's 37-year professional career in the Silicon Valley semiconductor industry consisted of 10 years at Lockheed and Hewlett-Packard, and 27 years with Fairchild Semiconductors (later Schlumberger Technologies) in the Automated Test Equipment Division. After retirement in 1994, he occasionally returned to consult and teach "the youngsters". While employed at Hewlett-Packard his design for a "Transducer Output Indicator" was patented in 1969.
Bob was an avid fan of the Golden State Warriors and Pro Golf Tours and many of his daily activities revolved around scheduled games and tournaments. He and his wife Mary shared a love of travel and history. Together they traveled to many parts of the USA visiting their daughters in Seattle, relatives in the Midwest and on the East Coast, historical sites and battlefields, National Parks, and even participated in a hilarious impromptu comedy routine with Yakov Smirnoff in Branson, MO. They enjoyed cruises to Alaska and through the Panama Canal, toured many countries in Europe, and attended the Passion Play at Oberammergau in Germany. Bob had a special love for Foothills Park and the Palo Alto Bay Lands and visited often looking for wild pheasants, turkeys, and deer while admiring the open space and views from Vista Point.
Bob was active in the Palo Alto Senior Men's Golf Association serving as president in 2014. He rejoiced in shooting two hole-in-ones at the Palo Alto and Coyote Creek golf courses. Bob also enjoyed membership with SIRS and participated in the Peninsula Civil War Roundtable.
Bob is survived by his two daughters, Martha Carlstead and Carrie Carlstead, four nieces and one nephew. He was preceded in death by his wife Mary in 2018, their son, William Carlstead in 1997, and siblings Carolyn Gray of Joplin, MO and Edward Carlstead of Ft. Washington, MD.
A Celebration of Life will be held Saturday June 8th at 1:00PM at St. Albert the Great hospitality center in Palo Alto, CA. Internment will be held June 10th at 11:00 AM at Gate of Heaven Cemetery in Los Altos, CA.
In lieu of flowers, please consider a donation to the American Cancer Society.