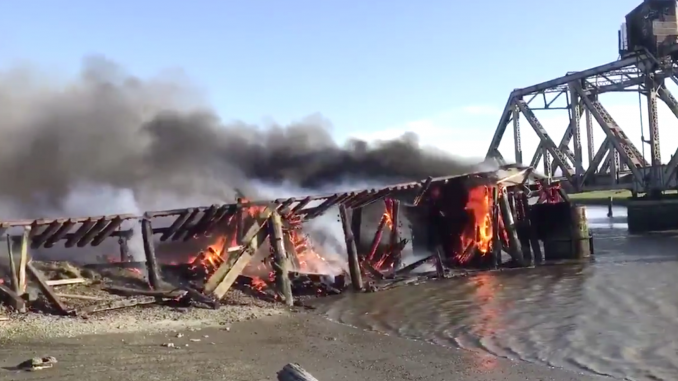 BY EMILY MIIBACH
Daily Post Staff Writer
A fire has destroyed the Fremont side of the out-of-service rail bridge that runs parallel to the Dumbarton Bridge.
A fire also destroyed the Menlo Park portion of the same bridge 21 years ago.
This fire was reported at 5:12 p.m. on Sunday (June 2) and it burned at least 100 yards of the wooden rail trestle. A video posted by the Fremont Fire Department on Twitter showed a portion of the bridge collapsing into the Bay.
The fire started in the brush near the bridge. Fremont Fire Battalion Chief Kyle Adams said investigators think the fire was caused by a person.
Both the trestle and the grasslands were hard to reach, taking firefighters almost 30 minutes to arrive. Firefighters needed to use four-wheel-drive rigs to reach the fire.
The rail bridge, once the oldest bridge to span the Bay, was built by Southern Pacific in 1910 and decommissioned in 1982.
In 1994, San Mateo County's Transportation Authority bought the Dumbarton rail route for $10 million to preserve the right-of-way for a future commuter train.
In 2017, SamTrans conducted a study of what to do with both the bridge and the rail spur that runs from the bridge to Redwood City.
New bridge could cost up to $1.8 billion
The study said it would cost about $150 million to demolish the bridge. Building a new bridge over the 1.3 mile span for either buses or trains would cost between $615.1 million and $1.8 billion, according to the study.
Since the study, SamTrans has begun to work with Facebook and Plenary Group, an investment group specializing in public-private partnerships, to start an environmental review of building a new bridge.
In February 2018, Representatives Jackie Speier, D-San Mateo, and Eric Swalwell, D-Hayward, joined San Mateo County Supervisor Warren Slocum in his mission to remind the rest of the Bay Area that the bridge is not dead.
"The Dumbarton Corridor is a prime example of an underdeveloped asset. We could move thousands more with express buses and ultimately create a new cross-bay connection via rail. It's time to tear the cobwebs off the old bridge, rebuild it along modern lines, and get commuters from as far away as Stockton out of their cars," Speier said in a statement at the time.
Bay City News contributed to this report.
Only a fraction of the local news stories covered by the Daily Post appear on this website. To get all the local news, including many stories you can't find online, pick up the Post every morning at 1,000 Mid-Peninsula locations.