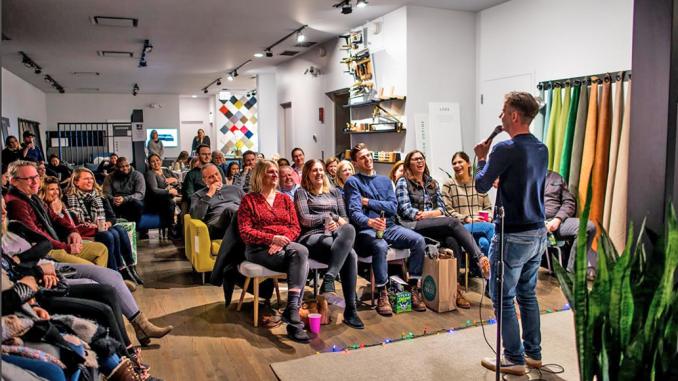 BY ALLISON LEVITSKY
Daily Post Staff Writer
A Los Angeles comedienne with a standup special on Netflix will be performing in Palo Alto on Saturday night (May 4) — but you'll have to go to the show to find out who she is.
Don't Tell Comedy, a company that hosts hush-hush, bring-your-own-beer comedy shows across the country, will be holding the show at Lucie Stern Community Center's 300-seat ball room at 7:30 p.m.
The show will feature five comedians in the largest South Bay event hosted by Don't Tell.
Pete Ballmer — the show's producer, one of the comedians who will be performing and, yes, the son of former Microsoft CEO Steve Ballmer — said Saturday's headliner tours nationally has appeared on Conan, the Tonight Show and Last Comic Standing.
Past South Bay events have featured J.C. Currais, who has been featured on Conan, and Irene Tu, who will be performing at Clusterfest in San Francisco next month.
Don't Tell was launched in L.A. in March 2017 by a group of comedians who held a show in a friend's backyard. Since then, the company has expanded to more than 30 U.S. cities and London, with shows hosted biweekly in the South Bay. The first South Bay show was held at YogaWorks in downtown Palo Alto last June.
After that, comedians have performed at the MidPen Media Center on San Antonio Road, house shows in Los Altos Hills, spaces in San Mateo and at WeWork, Bishops Cuts/Color and Ascension Martial Arts in San Jose. The rotating venues have added their own quirks to the show, Ballmer said. At one house show, the host played a piano keyboard each time a new comedian got onstage. At the martial arts studio, comedians were announced with a gong.
And ticket buyers usually don't know where they're going until the day of the show: the venue is kept secret until noon that day.
"By switching around the venue every time, it kind of provides a freshness to the show," Ballmer told the Post. "Part of the excitement is: what's this new venue going to be?"
It also makes for cheaper comedy shows. Rather than going to a comedy club and buying a $35 ticket with a two-drink minimum, most Don't Tell tickets start at $20.
And, Ballmer said, people who volunteer to help set up or take things down can attend the show for free. Plus, attendees get to bring their own beer and wine rather than pay for drinks at the bar. Saturday's show is $30 because of the size of the venue and the well-known headliner, Ballmer said.
The events are open to attendees aged 21 and up. Adults of all ages have attended, but Ballmer said the largest demographic at the Palo Alto shows has been people in their late 20s and early 30s. San Jose shows tend to be a little younger, while the house shows in Los Altos Hills skew older.
IF YOU GO
What: Don't Tell Comedy show
When: 7:30 p.m. Saturday, May 4
Where: Lucie Stern Community Center, 1305 Middlefield Road #1
Tickets: To purchase $30 tickets, visit donttellcomedy.com/tickets/bigshow