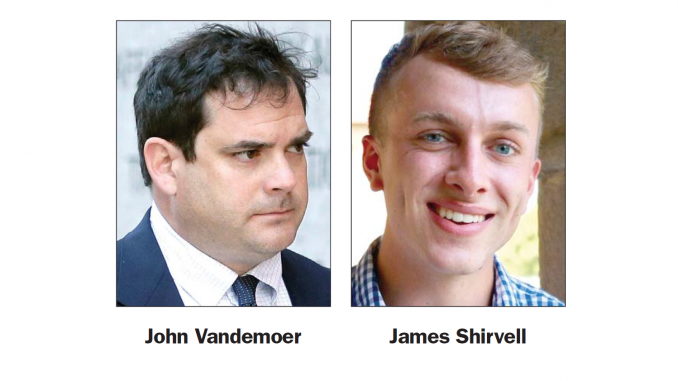 BY ALLISON LEVITSKY
Daily Post Staff Writer
Stanford admissions officials are reviewing applications in the wake of two scandals: the arrest of an admissions officer for allegedly stabbing his girlfriend while the two were on LSD, and the indictment and firing of former Head Sailing Coach John Vandemoer for his alleged participation in Rick Singer's massive college admissions scheme.
James Shirvell, 26, of San Francisco, was arrested on March 3 and later fired from Stanford.
Officials said on Thursday (March 21) that they would be reviewing applications assigned to Shirvell to "assure his assessments were sound."
And Stanford Athletics officials will now review and confirm each student whom a coach recommends for admission as an athletic recruit — an attempt to thwart any future bribe-driven college admissions schemes like the one that led to Vandemoer's indictment.
University President Marc Tessier-Lavigne and Provost Persis Drell announced on Thursday that a member of the athletics department's leadership responsible for each of the 36 varsity men's and women's sports would review recruits' credentials.
'Second, higher-level verification'
The new process will provide a "second, higher-level verification" of applicants' athletic credentials before that information is shared with the admissions office to be considered as one factor of the student's application.
A current Stanford student was admitted with a fake profile claiming that she was a competitive sailor. She was not recommended as an athletic recruit, but the falsified credentials that Vandemoer sent to admissions influenced her admission, according to federal prosecutors.
Her family gave $500,000 to the university's sailing program several months after she was admitted.
Vandemoer allegedly made false athletic recruitment recommendations for two other applicants in exchange for six-figure donations to the sailing program, but neither finished the application process and ended up going to other schools.
Stanford officials have not yet announced whether they will expel that student.
But they did say on Thursday that they would rescind the admission of any student who was found to have submitted false information on an application.
Yale rescinds student's admission
Officials at Yale University, meanwhile, said yesterday that they had rescinded the admission of a student linked to the bribery scandal.
The former women's soccer coach at Yale, Rudy Meredith, has been charged with taking $400,000 in exchange for facilitating that student's admission under the guise that she was a soccer recruit. Meredith left his job at Yale in November.
Have looked back as far as 2011 Stanford officials said they have confirmed the athletic credentials, prior to admission, of all members of the sailing teams who received an athletic recommendation during the admissions process, dating back to 2011.
And they are now reviewing every Stanford applicant who has been involved in the athletic recruitment process.
"We are working to make sure that no one with falsified athletic credentials is admitted to Stanford, and to date we have no evidence of any such person in this year's applicant pool," Tessier-Lavigne and Drell said in a statement.
Officials also said they had verified that Stanford hadn't received any other contributions beyond those three.
The Associated Press contributed to this report.