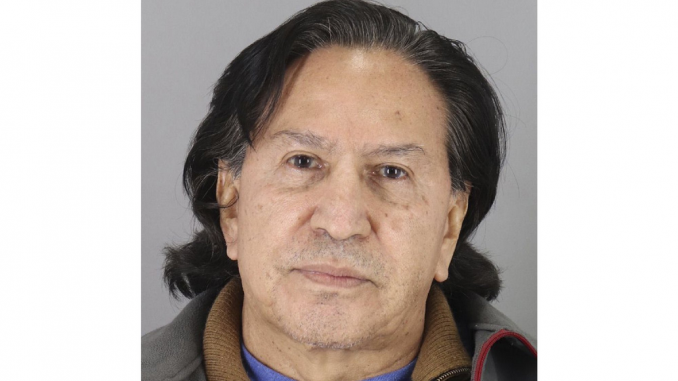 From staff and wire reports
Former Peruvian President Alejandro Toledo, wanted in his home country in connection with Latin America's biggest graft scandal, was arrested Sunday night on suspicion of public intoxication at the Dutch Goose on Alameda de las Pulgas in west Menlo Park and spent the night in jail before he was released this morning, according to the San Mateo County Sheriff's Office.
Alejandro Toledo, 72, was released without charges, which is routine for most public drunkenness arrests, said sheriff's spokeswoman Rosemerry Blankswade.
Blankswade this afternoon identified the establishment where the arrest took place as the Dutch Goose in the 3500 block of Alameda de las Pulgas in unincorporated San Mateo County, an area commonly called west Menlo Park. The arrest happened at 10:27 p.m. Sunday (March 17).
Toledo was Peru's president from 2001 to 2006 and moved to Northern California shortly after leaving office to work and study at Stanford, according to a 2007 San Francisco Chronicle report.
Toledo earned a doctoral degree in education and two master's degrees from Stanford, where he delivered the commencement speech to the school's graduating class of 2003 while still in office. He has held a variety of fellowships and visiting scholar positions at Stanford until 2017, according to university announcements.
In 2017, the same year Peruvian officials announced they were seeking to arrest Toledo, Stanford spokeswoman Brooke Donald told a Latin American media outlet that the college was severing its ties with Toledo, who she said was an unpaid "volunteer" who didn't teach.
Toledo is wanted in Peru where authorities have offered a $30,000 reward for his capture. Peruvian prosecutors accuse him with of taking $20 million in bribes from Brazilian construction firm Odebrecht while he served as president. He has denied wrongdoing.
Peru is seeking Toledo's extradition from the U.S. In February 2017, then-President Pedro Pablo Kuczynski asked President Donald Trump to deport the ex-Peruvian president.
Blankswade said the international police organization Interpol had issued a "warning" to law enforcement agencies around the world to notify it if and when Toledo was arrested. But Interpol officials told officials in the sheriff's office they had no immediate plans to extradite Toledo and he was released, she said.
Toledo brushed off questions about his arrest on suspicion of public drunkenness during a brief radio interview with Peru's RPP radio this afternoon.
"I'm at my home, writing my book," he said when a reporter reached him on the phone.
Asked if he could clarify whether he had been detained, he said, "I'm not falling into that trap."
It's not the first time Toledo's apparent love for booze has caught the public's attention.
During his mandate, Toledo's presidential aircraft became known as the "party plane" after a government official was caught on camera drunkenly singing a popular tune called "Pass me the Bottle" while aboard a flight to Europe.
After leaving power, incoming President Alan Garcia published a tally of Toledo's liquor purchases during his time in the presidential palace: a total of $164,000 in spirits, whisky, wine, beer and other alcoholic beverages.