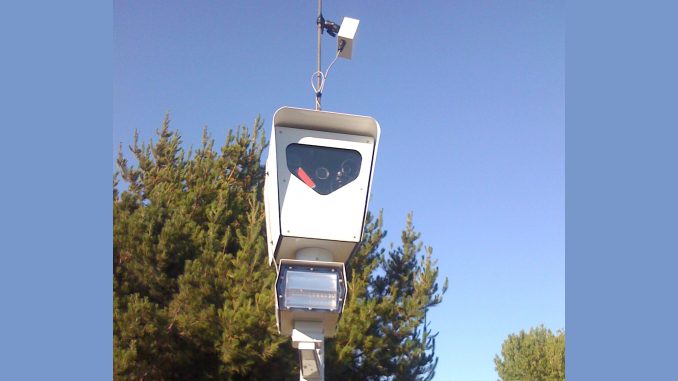 BY EMILY MIBACH
Daily Post Staff Writer
The Menlo Park City Council next month may be looking at dropping its controversial red-light camera vendor, and perhaps the program altogether.
The city currently has red light cameras set up at four intersections. Two are in the Belle Haven neighborhood, both along Bayfront Expressway, one at Willow Road and the other at Chilco Street. Both are in the council district represented by Vice Mayor Cecilia Taylor.
The other two cameras are on El Camino Real, one at Ravenswood Avenue and the other at Valparaiso Avenue. The camera at Ravenswood falls into councilwoman Betsy Nash's district, while the one at Valparaiso falls into District 3, which does not have a designated council member.
Tickets for violations photographed by the cameras run a minimum of $490, but can go higher based on court fees.
The council may be delving into the issue next month, which is when its contract with its camera operator Redflex expires. The council had voted on Oct. 23 to temporarily extend the Redflex contract so the city could send out a request for proposals, or RFP, to see if other operators wanted to run the cameras.
At the Oct. 23 meeting, both council members Ray Mueller and Catherine Carlton expressed dislike for Redflex.
RedFlex was caught bribing local officials in Columbus, Ohio, and Chicago to get city contracts.
Former Redflex CEO Karen Finley was sentenced by a federal judge to serve 30 months in prison in the Illinois case and 14 months in the Ohio case. She's also been ordered to pay $2 million in restitution.
On March 1, the city posted the RFP for red-light camera operators to submit bids. The city will be accepting bids until March 15. Once the bids are submitted, they will be weeded through by police Cmdr. William Dixon and his team for the program. They will present the proposal to council at its April 16 meeting.
Councilman skeptical of camera program
Even though the city put out the RFP, councilman Drew Combs told the Post that he plans on evaluating the entire program, and not just "choose between bids."
When Combs first ran for council in 2014, he told the Post that he was skeptical of the need for the cameras, saying they don't necessarily make intersections safer.
When they were running for election, councilwomen Betsy Nash and Cecilia Taylor both said they had mixed feelings about the cameras.
Taylor said she'd prefer to see an office issue the tickets.
Nash said she doesn't like having another agency hand out the tickets. She said while she is no fan of people running red lights, she's leery of the "big brother aspect" of the cameras.