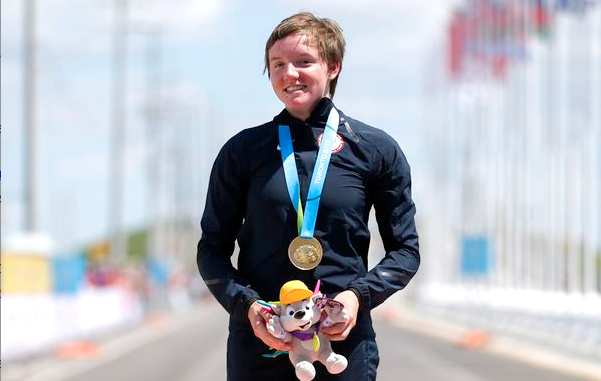 From staff and wire reports
Stanford graduate student and Olympic track cyclist Kelly Catlin has died as the result of a suicide in her residence on campus. She was 23.
Catlin was part of the U.S. women's pursuit team that won the silver medal at the Rio de Janeiro Games in 2016.
Catlin's father, Mark Catlin, told the cycling publication VeloNews that his daughter killed herself.
Her roommate discovered her body at about 12:30 a.m. Friday (March 8) in the Lyman Graduate student housing complex, according to a police radio transmissions.
USA Cycling chief executive Rob DeMartini said in a statement today (March 10) that "the entire cycling community is mourning this immense loss. We are offering continuous support to Kelly's teammates, coaches and staff. We also encourage all those who knew Kelly to support each other through the grieving."
Catlin was born and raised near Minneapolis, Minn., and rose to prominence on the track as a member of the U.S. national team. She also raced on the road for the Rally UHC Pro Cycling Team, and she was pursuing a graduate degree in computational mathematics at Stanford.
Catlin wrote an article for VeloNews, posted Nov. 27, in which she talked about balancing grad school and pro racing.
"Being a graduate student, track cyclist, and professional road cyclist can instead feel like I need to time-travel to get everything done. And things still slip through the cracks," Catlin wrote. "This is probably the point when you'll expect me to say something cliche like, 'Time management is everything.' Or perhaps you're expecting a nice, encouraging slogan like, 'Being a student only makes me a better athlete!' After all, I somehow make everything work, right? Sure. Yeah, that's somewhat accurate. But the truth is that most of the time, I don't make everything work." Catlin wrote.
Help is available
Those who have thoughts of suicide or are concerned about the well-being of another, can contact the National Suicide Prevention Lifeline at 1 (800) 273-8255 or Stanford's Counseling and Psychological Services (CAPS) at (650) 498-2336. Additionally, help is available through the Santa Clara County Suicide and Crisis Hotline at (855) 278-4204. Anyone in need of help can text "RENEW" to 741741.