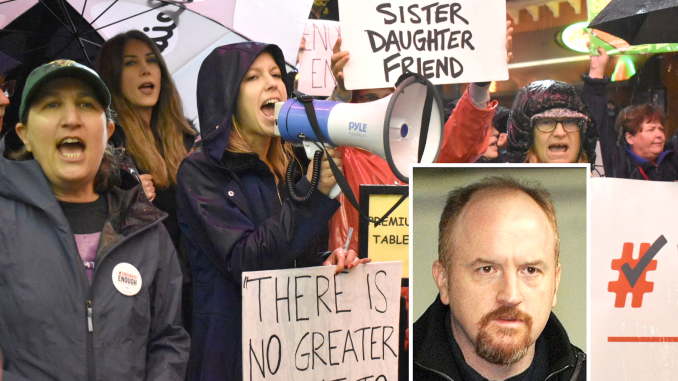 Hundreds of people last night (Jan. 16) streamed past a group of protesters led by Stanford law professor Michele Dauber to watch comedian Louis C.K. perform at the San Jose Improv Comedy Club. It was one of his first few appearances after admitting to sexually harassing women in November 2015.
The two groups interacted in varying degrees, as the group of about 30 mostly women protesters chanted "Shame!" and "Louis C.K. has got to go!" in front of the downtown theater. A handful openly mocked the protesters, while others acknowledged them and walked quickly past.
Louis C.K. briefly departed from the comedy scene after admitting to pleasuring himself in front of women without their consent, but has since made a slow return to the stage. His appearance at the Comedy Cellar in New York in October was also met with protests.
Prior to the event, the theater had an event description on its website listing Louis C.K.'s accolades and a disclaimer: "Louis C.K. is trying new material. XXX Adults only."
The theater said yesterday it respects the group's right to protest, but audience members can set their own limits.
A question of free expression
"We see comedy as the final frontier and we don't censor artists," the theater said in a statement. "We want them to perform without scrutiny."
Dauber, a Palo Alto resident, organized the protest as the leader of political action committee Enough is Enough. The protest was geared toward the theater, rather than the attendees, and the group pointed out the venue has not booked a single female headliner through July.
"Does the art mean that we no longer care about the personal behavior, even when the personal behavior is extremely damaging?" Dauber said, explaining that C.K. should certainly face scrutiny.
Dauber led a successful campaign to recall Santa Clara County Judge Aaron Persky in November after he granted a controversial six-month sentence to Stanford swimmer Brock Turner, who was convicted of sexual assault. She said the 30 people protesting in pouring rain in front of the theater was a testament to the local community's commitment to fight back against abusers.
Reaction
An attendee in the ticket line, Eli Melo of San Jose, scoffed as he watched the protesters. "We all make mistakes," he said, "I think it's ridiculous…can't nobody say nothing any more."
Tom Nowitzky of Morgan Hill, who was also waiting in line, said he understood the protesters and that C.K. was a "particularly controversial figure," but felt many of the protesters didn't see a "path to redemption" for C.K.
"I think that comedy is in trouble due to an atmosphere of intolerance about anything," he said.
Dauber pushed back at the idea, saying C.K. has made jokes to minimize the impact of his harassment and offered a disingenuous apology.
"C.K. himself does not take what he did seriously," she said. "He is sorry that he got caught, he is sorry that he lost money. He is not sorry for what he did."
According to the theater, C.K. sold out three shows with about 450 attendees each, a relatively small venue in comparison to C.K.'s previous shows. The shows require a "no phone" policy to ensure comedians can avoid internet leaks while testing out new material.
The theater hired additional security for the night, according to spokeswoman Wendy Zocks. Police were also aware of the event and had patrols in the downtown area.
Man with megaphone punched
One man protesting across the street with a megaphone was punched toward the end of the protest by a man who had been standing next to the theater. The man with the megaphone, who identified himself only as George, said they had a brief exchange about the nature of his protest before he was punched.
Police said the altercation may have been mutual, and George said he wasn't sure if he was pressing charges.
C.K. has two additional shows at the Improv Thursday night (Jan. 17), but there are no planned protests for those appearances at this time.
— Bay City News Service