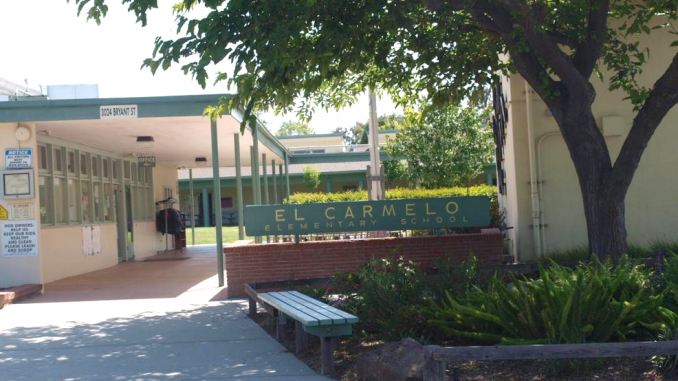 BY ALLISON LEVITSKY
Daily Post Staff Writer
The Palo Alto school district will go to voters on Nov. 6 with another school bond measure to fix up long-neglected elementary school buildings.
Measure Z is a $460 million bond measure that would require 55% voter approval Nov 6.
The district last passed a $378 million bond, Measure A, in June 2008 with 77.6% of the vote. So far, $340 million has been issued to the district. The district has paid off $101 million of what was issued.
Most of those funds have gone toward the middle and high schools, including Palo Alto High School's new Media Arts Center and Gunn High School's now nine-year-old aquatics center.
The new bond measure, school board member Todd Collins said, "finishes the job we started in 2008."
In 2008, the district made its first-ever 10-year, $750 million master plan identifying building needs for the next decade. The plan was to do 20 projects with the 2008 bond, then go back to voters for the second half of projects.
Collins said the district had handled the 2008 bond much more responsibly than its prior bond in 1996, which targeted deferred maintenance and seismic updates.
The 1996 bond was poorly managed and confused the public about expectations. The district had to rip out some school foundations because they were done incorrectly, and Hoover Elementary School was left off the list of school sites to be targeted by the bond measure, so seismic upgrades weren't performed there.
Lessons learned
After that experience, in 2008 the district brought in retired Chief Business Officer and Interim Superintendent Bob Golton to manage the bond part time.
"That made a huge difference, both because Bob is extraordinarily competent and caring, and it was somebody who was focused only on making sure the bond program was successful," Collins said.
This time around, the district wants to fix up the elementary schools. Of the district's 12 elementary schools, nine have barely been updated in the last 50 years and weren't touched by the 2008 bond money.
Collins said the district wants to expand and renovate the elementary schools' libraries and multipurpose rooms, many of which have their original flooring, walls and electrical. They're also sized for a school population that was 25% to 50% lower than today.
Other projects include more flex space, allowing kids to receive small group instruction separate from their main classes. That can help provide support for special education students, enrichment for gifted students and Response to Intervention instruction for students struggling in a specific area.
Magical Bridge-style playgrounds
The district also wants to build new playgrounds for all the elementary schools. Currently the district is working on building a smaller version of the Magical Bridge playground, a popular attraction at Mitchell Park that allows kids of all abilities to play, at Addison Elementary School.
The original, full-sized Magical Bridge playground at Mitchell Park cost $4 million to build. But the smaller one at Addison will only cost $600,000, half of which Santa Clara County will be funding through a matching grant program.
The Magical Bridge Foundation has since found a new vendor who is lowering the cost of the playground and identified other ways to cut costs. That means the next Magical Bridge-style playground at El Carmelo Elementary School would cost $300,000. The district will also be asking the county to cover half of the cost.