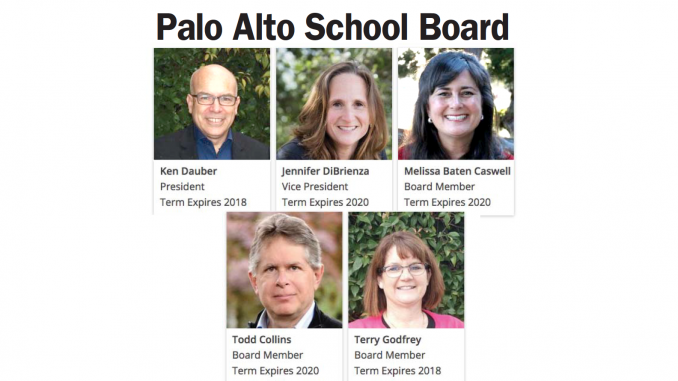 BY ALLISON LEVITSKY
Daily Post Staff Writer
Palo Alto school board President Ken Dauber says he wants to speed up board meetings by voting on issues after one discussion, rather than two.
Dauber, who is running for his second term on Nov. 6, said at a candidate debate Thursday (Sept. 20) night that he didn't think discussing issues at two meetings was a "critical tool for transparency."
Dauber has dismissed the so-called "two-meeting rule" as inefficient: the board only meets every two weeks, so it can take a month to move forward with an agenda item. Currently, two-thirds of the board can vote to waive the two-meeting rule to bypass it, but Dauber wants to do away with it altogether.
'Do everything twice rule'
In an interview with the Post, Dauber called the practice the "do everything twice rule" and said other legislative bodies don't typically operate that way.
"I actually think it can be potentially confusing for community members about 'Is this the first reading? Is this the second reading?'" Dauber said. "The board isn't constrained from discussing things more than once if it makes sense."
Superintendent Don Austin also advocated for cutting down the length and number of board meetings at the Aug. 22 board retreat.
Stacey Ashlund, a special education advocate and longtime PTA Council and Partners in Education volunteer, said at Thursday's debate that she wants to preserve the two-meeting rule and would even want to "really restrict" waiving it unless absolutely necessary.
Opportunity for the public
Ashlund said a "huge side effect" of waiving the second discussion was that the public misses out on a second opportunity to weigh in.
Former school board member Mandy Lowell told the Post that waiving the two-meeting rule concerns her, in part because it can cut down on board members' opportunities to thoughtfully discuss and change each other's minds.
Because state public meeting law prevents board members from discussing issues with more than one other trustee between meetings, trustees wouldn't have those extra two weeks after the first discussion to mull over an issue.
"Knowing that a thumbs up or thumbs down is required at the meeting, a member will generally make up his or her mind before the meeting," Lowell said.
The district has been criticized for a failure to communicate its plans with the public, such as when neighbors went uninformed of a plan to erect solar panels at Nixon and Escondido elementary schools until the construction began.
California Public Records Act requests, to which public agencies are required to respond within 10 days, can go months with no response.
When the district brought in lawyers from the firm Cozen O'Connor to review their mishandled response to a campus sexual assault in October 2016, the names of administrators involved were left out of the report but stated in a public meeting.
Dauber said on Thursday that the district's legal advisors had recommended that the names be left out of the report, and that the board's choice to reveal the names verbally was a good example of transparency.