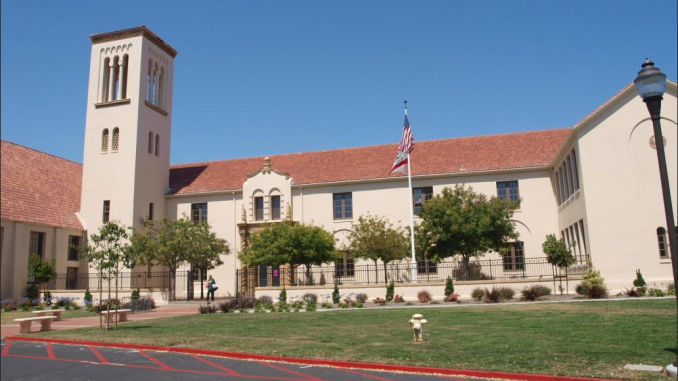 By the Daily Post staff
A man has told police that he was robbed at gunpoint on El Camino Real in front of Palo Alto High School.
The victim, a man in his 50s, said that at about 1 a.m. Sunday he was walking northbound along the east sidewalk of El Camino, adjacent to Paly's parking lot, when the robber asked him for directions. When the victim stopped to answer him, the robber pulled a black handgun from his jacket and pushed the victim off the sidewalk, apparently so that it would be more difficult for passersby to see the robbery.
The victim turned over his wallet and cellphone.
The robber then ran to a vehicle in the Paly parking lot, and the victim last saw him driving away eastbound on Embarcadero Road.
The victim wasn't physically injured.
Description
The victim described the robber as a white or Hispanic man in his 20s, about 5 feet 2, with a heavy build. The victim said he was wearing a black hooded sweatshirt over a red T-shirt, and khaki pants.
The victim said the robber's car was a red late 1980s-model Jeep Cherokee.
Police don't believe the robbery is related to another street robbery on Aug. 21 when two men on bikes held-up a man on University Avenue.
Anyone with information is asked to call police at (650) 329-2413. Anonymous tips can be e-mailed to [email protected] or sent via text message or voicemail to (650) 383-8984.