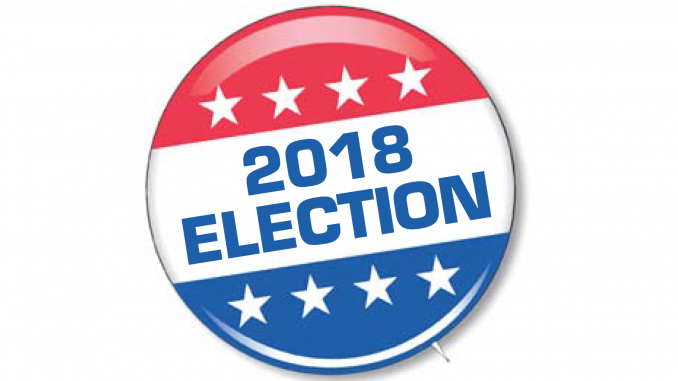 BY EMILY MIBACH AND ALLISON LEVITSKY
Daily Post Staff Writers
The Nov. 6 election is beginning to look like it'll be a barn burner in many races. Below is a breakdown of who has pulled papers since Monday, saying they intend to run for council, school board and special district races. The candidate filing period ends on Aug. 10.
Palo Alto Council
In Palo Alto, incumbents Eric Filseth, Cory Wolbach, Tom DuBois and newcomer Alison Cormack, the former president of the Palo Alto Library Foundation, are all running. Council members Greg Scharff and Karen Holman are termed out. But since council is going from nine to seven seats, there are only three seats up for grabs despite five council members' terms ending.
Mountain View Council
In Mountain View, incumbents Lenny Siegel and Pat Showalter are running for re-election while Ken Rosenberg is not. So far, planning commissioners Lucas Ramirez and Ellen Kamei have said they are running. Former Mayor John Inks and slow-growth advocate Alison Hicks are also running.
Los Altos Council
In Los Altos, two seats are up for grabs. Mayor Jean Mordo, downtown development advocate Nancy Bremeau, fiscal responsibility proponent Anita Enander, El Camino Healthcare District board member Neysa Fligor and Pierre Bedard are all running. Incumbent Mary Prochnow didn't return the Post's message yesterday asking whether she'll run.
Menlo Park Council
Three seats will be up for election in Menlo Park, but they will not be open to everyone in the city, since the council has switched to district elections.
Districts 1, 2, and 4 are up for grabs this year. Councilwoman Kirsten Keith, who lives in the Willows in District 2, has pulled papers. No one has filed against her yet, but Planning Commissioner Drew Combs is considering throwing his hat into the ring. He nearly won in 2014.
Mayor Peter Ohtaki, who lives in District 4, which covers Allied Arts and portions of West Menlo and downtown, has said he will be seeking re-election, but as of yesterday had not pulled papers. Councilman Rich Cline, who also lives in District 4, has said he won't seek a fourth term.
Sister City commissioner George Yang and Belle Haven advocate Cecilia Taylor have both pulled papers for the Belle Haven seat.
Atherton Council
Three seats are also up for grabs on this five-member council in November. They currently belong to council members Mike Lempres, Rick DeGolia and Bill Widmer. All three have pulled papers along with 30-year-old Jeanne Jensen.
Redwood City Council
Redwood City has a wealth of council candidates, with seven announcing they are running for three seats. Incumbent Diane Howard has said she will run but has not pulled papers yet. Councilmen John Seybert and Jeff Gee are not seeking re-election.
Planning Commissioners Giselle Hale and Ernie Schmidt, former planning commissioner Rick Hunter and renters advocate Diana Reddy have all pulled papers. Life-long Redwood City resident Christina Umhofer has announced she will run, but she has not yet pulled papers.
Belmont Council
Belmont will have three seats up in this election — appointed Councilwoman Julia Mates and incumbents Charles Stone and Warren Lieberman have all pulled papers to run.
San Carlos Council
All three incumbents on San Carlos council — Matt Grocott, Bob Grassilli and Cameron Johnson — are not running. So far three residents have announced they will be running and have pulled papers — former San Carlos School District trustee Adam Rak, Economic Advisory Commissioner Sara McDowell and Single Family House Advisory committee member Laura Parmer-Lohan.
East Palo Alto Council
Two seats now held by Mayor Ruben Abrica and Donna Rutherford on the five-member council are up for grabs in November. There's no word yet on whether either will seek re-election. East Palo Also Deputy City Clerk Maria Buell told the Post yesterday (July 18) that six people had pulled papers. She said she could not say who had pulled papers.
Palo Alto School District
Palo Alto school board incumbent Ken Dauber is running for re-election while Terry Godfrey is not. School district critic Kathy Jordan, 28-year-old Gunn High School alum Shounak Dharap, special education advocate Stacey Ashlund and 21-year-old Palo Alto High School graduate Alex Scharf are running.
Mountain View Whisman School Board
Mountain View Whisman school board incumbents Ellen Wheeler and Greg Coladonato are both up for re-election, but only Wheeler had pulled papers as of yesterday.
Mountain View-Los Altos High School District
In the Mountain View-Los Altos High School District, incumbents Fiona Walter and Debbie Torok are both running. Incumbent Joe Mitchner hadn't pulled papers as of yesterday.
Los Altos School Board
Los Altos school board incumbents Bryan Johnson, Vladimir Ivanovic and Sangeeth Peruri are all up for re-election, but none had pulled papers as of yesterday.
Sequoia Union High School District Board
The board, which covers Belmont to East Palo Alto, also has district elections this year. The races are for Menlo Park-based District D, and District A, which covers Belmont, San Carlos and part of Redwood City. There are board incumbents who live in both districts — Alan Sarver in District A and Chris Thomsen in District D — and both have pulled papers to run.
San Mateo County Community College District Board
The college board split into districts this year. District 2 covers North County (South San Francisco, Daly City, Colma and Broadmoor) while District 4 encompasses San Mateo, Belmont and Foster City. So far incumbent Thomas Mohr has pulled papers for the District 4 seat and Daly City resident Thomas Nuris is running for the District 2 seat. Richard Holober, whose term is up this year, lives in San Mateo.
Las Lomitas School Board
Parent Jon Venverloh has pulled papers. Incumbents John Earnhardt, Rich Ginn and Christy Heaton have not.
Menlo Park City School District
Parents Scott Saywell and Sherwin Chen have pulled papers to run, as has incumbent Stacey Jones. Fellow incumbents Terry Thygesen and Joan Lambert have not.
Ravenswood City School District
East Palo Alto resident Julian Alberto Garcia has pulled papers. Incumbents Charlie Mae Knight, Ana Maria Pulido and Marcelino Lopez have not.
Santa Clara Valley Water District
Gary Kremen, who represents Palo Alto, Mountain View and Los Altos on the water board, is running for re-election.
Menlo Park Fire Protection District
Atherton residents Jim McLaughlin and Colleen Haight have pulled papers to run. Appointed incumbent and East Palo Alto resident Robert Jones has also pulled papers.
San Mateo County Harbor Commission
Incumbent Ed Larenas and former Brisbane Mayor Sepi Richardson have both pulled papers to run.
Sequoia Health Care District
Another board that is switching to district elections. Zone E (which consists of the district west of I-280), Zone A (the district east of Highway 101) and Zone C (San Carlos and Emerald Hills) are all up for election this year. So far, only Zone A resident Michael Garb has pulled papers to run. Incumbents Art Faro, Kim Griffin and Jerry Shefren have not pulled papers yet.
West Bay Sanitary District
Board members Roy Thiele-Sardina, Edward Mortiz and George Otte have not yet pulled papers to run.