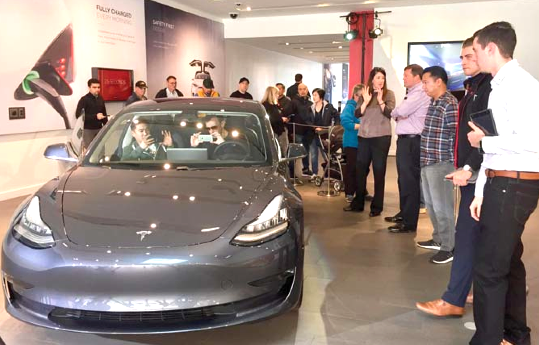 BY EMILY MIBACH
Daily Post Staff Writer
Redwood City has pulled the plug on plans for a Tesla repair shop and sales showroom slated for the former location of Crunch Fitness on Veterans Boulevard near Highway 101.
Tesla had already received the planning commission's go-ahead on the project — to convert the 23,000-square-foot gym to a repair shop and sales center — and to get its final approval from the city council. However, after the May 15 commission meeting, Tesla decided against having a sales center at 515 Veterans Blvd., said city spokeswoman Meghan Horrigan.
City officials told Tesla they wanted a sales center to be part of the application, and so Tesla withdrew its plans, according to Horrigan.
The location offered visibility from Highway 101, something other car dealers have desired.
Tesla did not respond to the Post's messages to hear the company's side of the story.
No new plans have been submitted for the site, Horrigan said.
Before it was the Crunch gym, the gym was known as the Dennis Nelson Health Spa and it opened in 1966. The Health Spa was more than just a place to work out. It also had a beauty shop, jewelry store, restaurant and health food store. The 49ers and Joe Montana were known to use the Health Spa.
Crunch was the latest iteration of the gym, and closed in January.