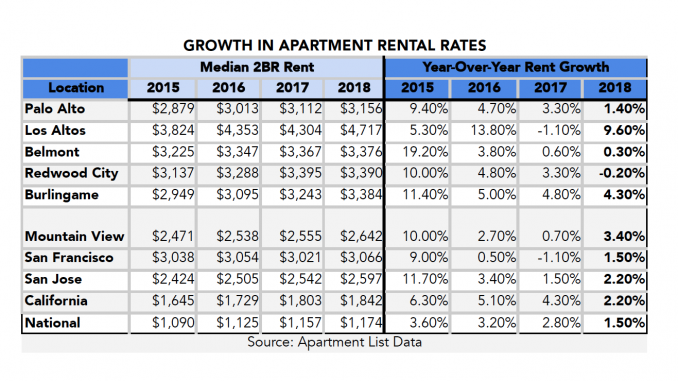 BY ALLISON LEVITSKY
Daily Post Staff Writer
Rents in Palo Alto are sky-high and continue to climb, but new numbers from ApartmentList.com show that rent hikes, at least, are starting to slow down.
In 2015, rents were going up 9.4%. That has steadily lowered to 4.7% in 2016, 3.3% last year and 1.4% this year. With an average rent of $3,156 per month, it's possible that the rents couldn't get any higher.
Sam Safadi, of downtown Palo Alto-based Cal Bay Property Management, said he had even encountered young adult renters who "assume rents go up every year forever" because they've only ever seen the market expand.
What those tenants were too young to see, Safadi told the Post, was the "post-dot-com rent apocalypse," including a 40% drop throughout Silicon Valley in 2002, followed by another "massive" drop in 2009.
"These things move," Safadi said. "We've definitely seen back-off over the last couple of years, since the crazy five-year run."
Headed for equilibrium
Safadi, who mainly manages "garden-style" apartment buildings with 16 units or more in Santa Clara and San Mateo counties, said he was glad to see a gentle decline.
"I don't like to see the real insane volatility that we've seen," Safadi said, adding that he thought the market was heading toward "some kind of equilibrium."
Dave Roberson, a real estate attorney who manages 84 houses in Palo Alto as the principal of San Jose-based Silicon Valley Property Management, attributed the slowdown to residents leaving town and new units coming on the market.
"The renting marketplace is getting tired of paying high rents, so they're finding new places to go," Roberson told the Post. "There's just not that appetite anymore for people to pay top dollar when they can go other places."
Some of those skipping town are tech workers who commute from outside the city, including those who take company-provided charter buses. Some are able to work remotely for companies in and around Palo Alto.
Roberson said he's noticed that his higher-end houses still get "swallowed up right away," but it takes him longer than it once did to find tenants for his mid-range houses.
El Camino apartment construction
He noted that the El Camino Real corridor has also seen an uptick in apartment construction, which "drowns out demand a little bit."
Jason Born, who mostly rents out single-family homes in San Mateo County at Belmont-based Born Property Management, attributed the slow-down to a new crop of units coming on the market because more homeowners are putting their houses up for rent.
He said he's also seen more adults sharing homes with roommates, either with other tenants or homeowners renting out spare rooms. Born attributed this trend to new room-sharing websites.
In some cases, large tech companies facilitate home rentals for their employees, in some cases chipping in for their employees' rent to lure workers.
While some renters look outside Palo Alto for cheaper housing in Redwood City, Belmont or San Mateo, "Palo Alto's still where everybody wants to be," Born said.
"Palo Alto clearly is the watermark," Born told the Post. "The last place the market's going to be hit is Palo Alto. If you look at the market as a stone dropping in the pond, you have to see right where the waves go out to."
Incentive to sell
Born also offered what he sees as a possible solution to California's housing crisis, in addition to higher-density housing and better transportation systems: offering a two- or three-year exclusion on capital gains taxes for home-sellers. That way, longtime homeowners who have been sitting on houses that are larger than what they need could be incentivized to move, freeing up houses for young families.
"People would not be afraid to sell their home," Born said. "In real estate, we don't always try to take our pompoms and shake them and say, 'How can we get the rents up?'… I'm raising a family here. I want my kids to live here."