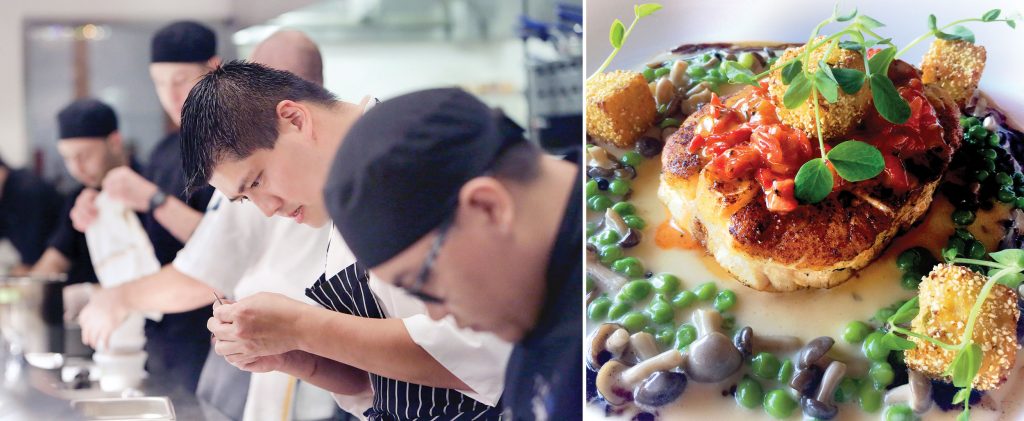 Show your love this Mother's Day by taking your mom to a sumptuous brunch at the Sea by Alexander's Steakhouse in Palo Alto.
From 11 a.m. to 4 p.m. this Sunday, The Sea will be offering an elegant three-course prix-fixe menu, with each diner having his or her pick of a varied selection of appetizers, entrees and desserts. Like its sister Alexander's Steakhouse restaurants in Cupertino and San Francisco, The Sea is a destination restaurant that offers an impeccable dining experience, but specifically focuses on crafting culinary delights from the bounty of the sea. The atmosphere is modern and elegant, with an oceanic palette of blues, grays and whites, with dramatic high ceilings and white leather chairs.
The appetizer list for the brunch will include the restaurant's justly famous hamachi shots with truffled ponzu, avocado, ginger and jalapeno, but tuna tartare and seared foie gras are also among the tempting options. The entrée list will of course delight seafood-lovers with wild Maine scallops with peas and polenta, King salmon with smoked bacon and grilled shrimp with potato puree and kale available; however, there will also be two choices for steak lovers, as well as two pasta options. The delectable dessert offerings include the playful Strawberry Patch, a berry mousse with devil's food cake and mint ice cream, as well as a decadent Grand Marnier ice cream with berries and brown butter crumble.
Each mother will receive a flower with her brunch. The last seating will be at 3:30 p.m.
The meal is offered at $85 a person, not including service charge and tax. A kids' menu will also be available at $18 a child, and don't hesitate to inquire about large parties as the restaurant is happy to accommodate those needs.
With more than 20 years of experience and extensive training in both Japanese and French cuisine, Chef Yu Min Lin brings a creative, contemporary sensibility to the dishes at The Sea. The Sea is proud to use seasonal, locally sourced vegetables and the highest quality fish and meats available. Other than their oysters, which are farmed in Japan, nearly 100% of the seafood they use is sustainable and wild.
The restaurant is located next to Dinah's Garden Hotel at 4269 El Camino Real in Palo Alto. To make a reservation for your Mother's Day brunch, call The Sea by Alexander's Steakhouse at (650) 213-1111 or go to www.theseausa.com.