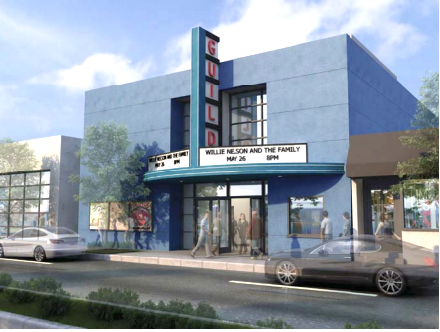 BY EMILY MIBACH
Daily Post Staff Writer
The Menlo Park Planning Commission on Monday (April 23) will review plans to transform the 94-year-old Guild Theater from a single-screen movie theater to an entertainment venue, where live music, performances and film screenings could take place.
The proposed revamping of the theater at 949 El Camino Real would consist of building a new stage, adding a second story inside the theater, constructing a basement and other needed tweaks.
The venue would host events up to three times a week, mostly Friday to Sunday, with evening performances taking place from 7 p.m. to 11 p.m., according to a memo from Associate Planner Corinna Sandmeier.
Depending on the event, there would be between 150 and 500 attendees at the Guild.
The project is not proposing any parking, but Sandmeier's memo says there is "ample parking supply in downtown Menlo Park that is expected to accommodate the largest estimated demand generated by the project."
Sandmeier also points out the Guild's close proximity to the Caltrain line, and suggests the Guild operators could offer discounts to people who ride Caltrain to their events.
The Guild's owner, the Peninsula Arts Guild, a nonprofit run by resident Drew Dunlevie, is also offering the venue to be available for community uses, such as Kepler's Books' author talks, school plays or concerts and special city events.
The project will be completely funded by the Peninsula Arts Guild, and the owner does not expect to get any money from the city, Dunlevie told the Post previously.
The project will likely cost $10 million to $20 million.
The project has gained a large amount of support from residents, with at least 66 emails being sent to the council praising the project in the past three days. Here are some of the comments:
• "In addition to the benefits I see (live entertainment, movies, tax revenue), just as importantly it will bring an "independent" venue, which is fast disappearing in today's society, (as they) are being replaced by the chains and big-box retailers and venues," wrote Mike Eisenstat.
• "I am thrilled that Menlo Park is finally (hopefully) going to have its own performance arts venue, which should benefit all of our local businesses and serve our sense of community. Thank you so much for helping make it happen," wrote Sarah Eisner.
• "The mid-Peninsula area is lacking in venues of this type and it would enrich the city so much. A lack of night life and culture is a common complaint in Menlo Park (where we have very little to complain about!) not only because it's missing but because our town is so full of amazingly talented people who crave this sort of cultural enrichment," wrote Anne-Marie Napolitano.