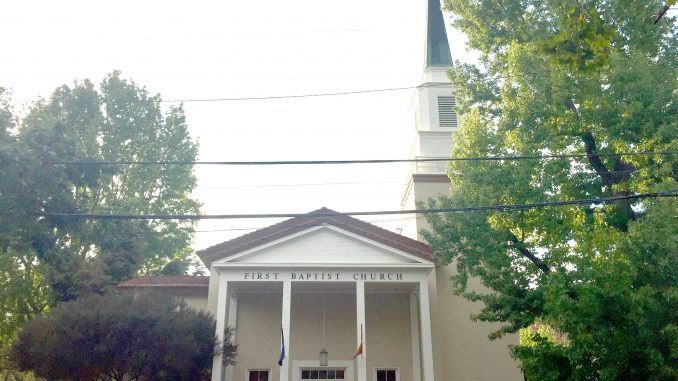 BY ALLISON LEVITSKY
Daily Post Staff Writer
Despite months of complaints by neighbors over noise, traffic and parking problems at the First Baptist Church of Palo Alto, the city's Planning and Transportation Commission has recommended allowing the church to continue to rent space to tenants, including music groups and therapists.
After a four-and-a-half-hour public hearing April 11, the commission voted 5-1, with Doria Summa dissenting and Asher Waldfogel recusing himself, to recommend that the church receive a conditional use permit to operate as a community center. City Council will make the final decision.
Hours, occupancy limits
A permit will allow the church to operate between 9 a.m. and 10 p.m. on weeknights and 9 a.m. and 11 p.m. on Fridays and Saturdays, as requested by the Rev. Rick Mixon.
The Planning Director Hillary Gitelman proposed an occupancy limit of 50 but the commission increased that to 120, which is what Mixon had asked.
The church will have to limit the number of special events to 12 per year, the number that Mixon requested after the Gitelman suggested six.
The church is home to iSing Silicon Valley, a girls choir that serves girls ages 5 to 18, as well as several folk and tango dance groups as well some nonprofits. The church also has therapists as tenants. The Planning Department proposed limiting the number of therapists to three, but the commission felt there shouldn't be a limit.
Parking photo
Neighbor Sarah Burgess showed a photo of a Prius parked on the sidewalk the night of a concert at the church and said the city has room to accommodate the groups at the Mitchell Park, Lucie Stern and Cubberley community centers, a claim which iSing Silicon Valley Artistic Director Jennah Delp-Somers denied.
"I've lived in cities. I've lived in Berkeley, I worked and went to school in San Francisco for over 20 years," Burgess said. "But I and my neighbors moved to Palo Alto, where we … vote and we pay property taxes, to have a peaceful, suburban existence."
Jessica Rothenberg-Aalami, chair of the board of iSing and a third-generation Palo Altan, said she was "outraged" that of 39 complaints submitted to the city, 27 of them were from the same six families.
Bullying claimed
"Why subject us to this bullying by a few neighbors in a neighborhood of thousands?" Rothenberg-Aalami asked. "We live in a city with traffic and where humans gather."
Laura Seitel, who has lived next door to the church at 349 N. California Ave. for 35 years, pushed for the city to impose a 5 p.m. curfew on weekdays.
Former Mayor Jack Morton, who said he lives halfway between Jordan Middle School and First Baptist off of California Avenue, threw his support behind the church.
"There are thousands of us in this community who want nonprofit programs like iSing to be part of our community," Morton said. "A girls' choir is not a football stadium."
Commissioner Michael Alcheck pushed for throwing out every provision suggested by Planning Director Gitelman, leaving out any specific limitations on use other than to allow uses that would be acceptable at a church.
'Unenforceable and illogical'
He criticized the city planners for making recommendations that sought to strike a compromise with the neighbors without backing them up with quantitative studies, a concern that Commissioner Przemek Gardias, an engineer, echoed.
"To me this is both unenforceable and illogical," Alcheck said. "We have to essentially save the city from itself right now."
Alcheck questioned the regulation of church activities and, at the end of the meeting, motioned to have a future discussion about redefining "church" in the city code, arguing that the activities currently allowed at houses of worship are overly limited and archaic.
"I think the very definition of ministry and religious practice is evolving tremendously," Alcheck said. "I think it takes a lot of effort to keep a membership high if you don't get creative and evolve."
That motion passed 4-2, with Summa and Gardias dissenting.