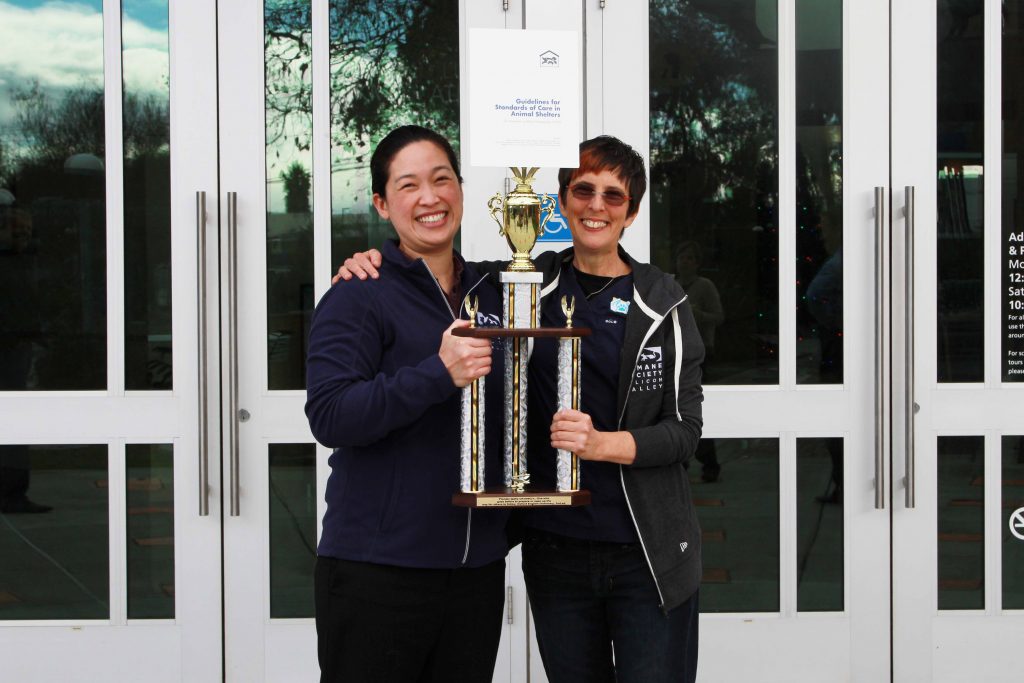 Humane Society Silicon Valley is leading the charge for humane treatment of animals, recently becoming the first shelter in the world to be achieve model shelter status.
The organization is the first to meet all 543 guidelines developed by the Association of Shelter Veterinarians (ASV) as the ideal way to ensure homeless animals' needs are met and that they are protected from suffering and disease.
The guidelines were created "as a resource for shelters across the country to elevate the standards of care for animals in shelters," said Dr. Cristie Kamiya, Chief of Shelter Medicine at Humane Society Silicon Valley.
Meeting the animals' needs is about more than keeping them well-fed and physically healthy. At HSSV, the focus is on getting animals healthy and keeping them healthy, giving them opportunities to play and interact with people and animals to keep them emotionally and mentally healthy, and providing space that is engaging and individualized for the animal's needs. For instance, the Silicon Valley shelter's Doggy Day Out Program lets volunteers take some of the more energetic dogs out of the shelter for the day to give them much-needed exercise and personal attention. Cats get to hang out in the Sunshine Room, where they can enjoy attention from visitors and volunteers or just find a quiet spot to relax. And all animals are monitored daily to ensure their physical and mental well-being.
Dr. Kate Hurley of the Koret Shelter Medicine Program at the University of California, Davis, a co-author of the shelter association's guidelines, said that she hoped other shelters would follow Humane Society Silicon Valley's example.
"My colleagues on the ASV board and I crafted the guidelines in the unshakable belief that providing great care would amplify lifesaving in animal shelters," she said. "We needed a shelter to show not only that the standards exist as a model, but that they can actually be accomplished and maintained. Words can't explain how it feels to see our vision in action at HSSV."
Humane Society Silicon Valley is committed to sharing knowledge and best practices within the animal welfare industry to help raise the quality of care everywhere.
The organization's main center is in Milpitas and it also has three satellite adoption locations at Petsmart in Mountain View and Petco stores in Sunnyvale and San Jose. The shelter facilitates more than 5,000 adoptions a year of cats, dogs, rabbits, hamsters and other animals. Over its 85 years, it has helped more than half a million animals find loving homes. They also provide spay/neuter services, vaccine clinics and and training classes.
For more information about Humane Society Silicon Valley, call (408) 262-2133 or go to www.hssv.org.