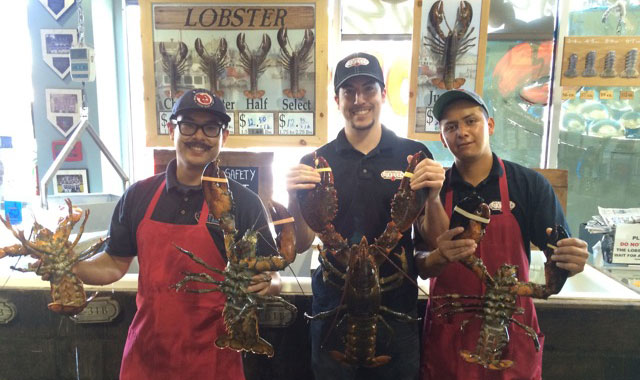 You can feast on the freshest Maine lobster and local Dungeness crab. You don't have to go very far and you don't have to get dressed up. All you have to do is go to New England Lobster Market & Eatery in Burlingame.
Just like an authentic East Coast lobster shack, they offer the classic lobster roll (naked or dressed), their signature lobster corn chowder, and of course or the lobster platter with all the fixings: house-made chips, coleslaw, bread and butter. In addition to lobster, the restaurant has a host of other seafood offerings, including crab sandwiches, crab nachos, shrimp and fish tacos, and both oysters and clams on the half shell.
But all that seafood doesn't mean it's all fancy. The restaurant is a casual everyday spot where diners order at the counter and enjoy their meals at picnic tables. Grab a craft beer or soda or a glass of wine to enjoy with your food, then top off your East Coast experience with a house-made whoopie pie for dessert.
In addition to running the restaurant, the company does the biggest lobster wholesale and distribution business west of Boston — their facility holds up to 75,000 pounds of the crustaceans. New England Lobster gets live lobsters delivered by air mail from New England daily, year-round. All of it comes fresh and stays that way until it's on your plate — the lobster is never frozen.
All those lobsters mean that in addition to having some of the freshest lobster around, they have any size you could want. Really. Just ask the person behind the counter for whatever size lobster you fee like. If you want a three-pounder, they can do that. Up to 10 pounds, whatever size lobster you ask for, they'll grab one fresh out of the tank and cook it up for you right there.
"Nobody else can do that," said Danny Rosa, manager and director of marketing for the restaurant.
Drop by for lunch or dinner, or, better yet, during their happy hour Monday through Friday from 3 p.m. to 6 p.m. when you can enjoy $1 off all beers and wines along with great deals on lobster claws, tacos, lobster corn chowder and other yummy bites.
The restaurant is also a great spot for business meetings and private parties. They boast a private room that can seat up to 40 people.
For more information call (650) 873-9000.